Iyer receives IBM Faculty Fellow Award
ECE News
Kim Gudeman, Coordinated Science Lab
8/10/2008
Story Highlights
Professor Ravi K. Iyer's award will go toward benchmarking operating systems dependability and the development of OS-level techniques.
The research will allow companies to decide which operating system and hardward will meet the needs of their customers.
The researchers' biggest challenge is to create a test-bed environment with metrics that fairly and accurately compare the systems.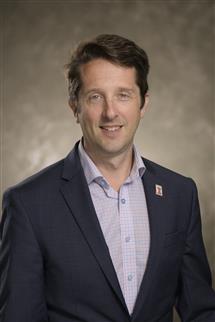 ECE Assistant Professor Jonathan J Makela was recently honored with two prestigious, international awards for young scientists. The awards recognize his outstanding research of the ionosphere.
"Both awards are designed for young scientists, so they acknowledge the work I've already done in my short career," Makela said. "Also, it's nice to get the feeling that the community I work in thinks I have the potential for a successful career."
The Committee on Space Research and the Russian Academy of Sciences selected Makela to receive the Zeldovich Medal for "Space Studies of the Upper Atmospheres of the Earth and Planets Including Reference Atmospheres." The Zeldovich Medal is granted to scientists under the age of 36 in each of the Committee on Space Research and the Russian Academy of Sciences' eight scientific commissions every two years. Makela received his medal and certificate at the 37th COSPAR Scientific Assembly, held July 13 through 20, in Montreal.
As organizations that aim to further scientific research, the Committee on Space Research and the Russian Academy of Sciences agree on final candidates for each commission of the Zeldovich Medal, which was established to honor the memory of astrophysicist Yakov B. Zeldovich. The Committee on Space Research, established in 1958, works to promote an international level of scientific research in space, while the Russian Academy of Sciences, a self-governed non-commercial organization, works to advance and promote technology, economics, and culture in Russia.
In addition to the Zeldovich Medal, Makela has also received the International Union of Radio Scientists United States National Committee Henry G. Booker Fellowship. The award, named after the group's former vice president and honorary president is given triennially to an outstanding young radio scientist in North America.
Makela was acknowledged for the award at the International Union of Radio Scientists General Assembly on August 10 in Chicago. However, the International Union of Radio Scientists, a non-governmental and non-profit organization that aims to promote radio science and its applications, will not officially present Makela the award until the National Radio Science Meeting in January 2009.
Makela earned his bachelor's and PhD from Cornell University's School of Electrical Engineering in 1999 and 2003, respectively. While there, he served as a teaching assistant fellow and the head cooperative learning trainer at Cornell's Learning Initiatives for Future Engineers. Upon graduation, Makela became a postdoctoral research associate in the Thermospheric and Ionospheric Research and Applications group at the Naval Research Laboratory in Washington, DC.
In 2004, Makela, whose research interests focus on instabilities in the ionosphere, arrived at the University of Illinois, where he is an assistant professor of ECE as well as an assistant research professor at the Coordinated Science Laboratory. Makela said he was drawn to the University by the excellent remote sensing and space sciences research group and the large ECE department.
"To find a department with seven faculty members in my area, about 20 graduate students and some undergrads is fantastic. We really have a good working relationship within this group," he said. "The amount of support for research and teaching from the department, college and University was a big draw. Also, having the ability to work with the caliber of students in our department made Illinois win out over some other places."
Since his arrival, Makela has taught a variety of upper level engineering courses including ECE 445: Senior Design Project Laboratory, which he taught this summer, and ECE 498: Global Positioning Systems. However, he is hoping to teach some of the lower level courses in the near future, such as ECE 210: Analog Signal Processing.
"I think it would be nice to interact with students while they're still exploring whether or not electrical and computer engineering is what they want to major in and maybe push them over the hump, showing them why ECE is a great department and career choice," Makela said. "At the same time, for those students who are interested in ECE, it'd be nice to start interacting with them before they start specializing in different subareas."
Makela has been a member of the American Geophysical Union since 2001 and IEEE since 2005. He has contributed to more than 45 publications and has participated in more than 50 presentations at international and domestic conferences. He currently has four additional journal articles in publication as well as three in review. Aside from making advances in his four actively funded projects from the National Science Foundation and other funding organizations, Makela has plans to develop new types of field instruments in the near future.
"One of my interests at this point is trying to go to larger networks of instrumentation than the historical paradigm has been," he said. "We're trying to make observations of a global system, a system that is from the sun to the earth and everything in between. We really need to have larger networks so we will be able to see not only what the temporal variability is at a single site, but also what the spatial variability and correlations are so that we can better predict and forecast the state of the system as a whole."