Glassenberg's app helps doctors master procedures virtually before treating patients
ECE News
Rebecca Nash, ECE ILLINOIS
1/31/2017 9:12:53 AM
Story Highlights
ECE ILLINOIS alumnus Sam Glassenberg (BSCompE '02), founder of Level EX, is developing medical applications that could help train doctors on surgical maneuvers before the procedure takes place.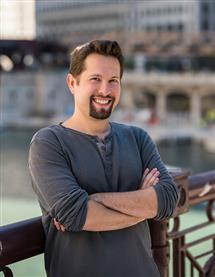 Glassenberg served as CEO of Funtactix, a video game maker that developed well-known games for mobile devices such as "The Hunger Games" and "Mission: Impossible." Funtactix merged with the company Playtech, and Glassenberg currently is the CEO of Playtech Casual Games.

In 2012, Glassenberg recieved a request from his father, an anesthesiologist at Northwestern Memorial Hospital, to utilize his computer science skills to create a medical application. As a result he developed iLarynx, a fiber-optic laryngoscopy simulator application to help train medical residents on their iPads. iLarynx spread like wildfire with over 100,000 downloads in just a few months after its release into the Apple App Store.

By 2015, Glassenberg founded Level EX in Chicago and released the startup's first medical app, Airway EX. "It looks exactly like the procedure. It behaves exactly like the procedure," Glassenberg says. "The patient bleeds. The patient coughs. The device manipulates just like it would. We work very closely with the doctors to make sure that we got everything accurate."

The company is now working toward the release of gastroenterology, orthopedics, and cardiology applications in 2017 after recieving $2.15 million in seed funding from Jazz Venture Partners and Pritzker Group Venture Capital.

This story is originally seen in Crain's Chicago Business.