Students design an out-of-this-world class project
ECE News
Laurel Bollinger, ECE Illinois
11/14/2008
Story Highlights
Some Illinois juniors and seniors in engineering are taking ENG 491 CU1, a year-long course in which they design and build a satellite that will eventually go into orbit.
Illinois is one of 40 international universities designing this type of CubeSat satellite.
The students are planning on a tentative December 2010 launch.
"Our two grad students were asked to give a seminar to NASA's AIM small satellite group. So they were impressed with our little satellite," said ECE Illinois Professor Gary R Swenson proudly. The two graduate students had gone to California Polytechnic State University in April to give a seminar on the small satellite that they were building with 18 other students.
That's right. A satellite. University of Illinois juniors and seniors in all areas of engineering are coming together for a year-long class focused around building a satellite that will eventually go into orbit. The course is ENG 491CU1: Interdisciplinary Design Project, and the project they are designing is called a CubeSat. Teams from over 40 international universities are creating CubeSats, and the name refers to the fact that the satellites are each a 10-centimeter cube. The Illinois satellite is a double CubeSat, so it is 20 centimeters long. ECE Professor Gary Swenson, along with Aeronautical Engineering Professor Victoria Coverstone, began developing the Illinois CubeSat class in 2001.
"In 2004 it became an official class," said Swenson. "Then some faculty from Stanford and Cal Poly put together an organization to collect the CubeSats from various universities with the intention to launch and get them into orbit. This has been a coordinated program, instituted by Bob Twiggs of Stanford University."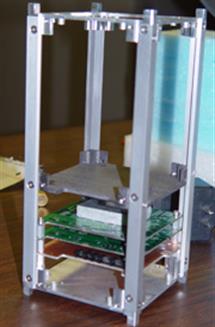 When the first Illinois satellite, ION 1 (which stands for Illinois Observing Nanosat), was launched by a Russian spacecraft, July 26, 2006, hopes ran high. But, about a minute after launch, the dreams were dashed when the spacecraft exploded.
"We've been working on ION 2 since July 26, 2006, the day the other blew up," said Swenson.
ION 2 is preparing for a tentative December 2010 launch. Current students in the class are working hard to make sure it is ready on time. This semester students are working on the design for the bus, the physical and electrical structure that the satellite will ride in.
"Our students have attacked this job quite aggressively, and this will be a very elegant bus," said Swenson. "The status is that we're expecting to finish the bus by May."
Once it is launched, ION 2 will track upper atmospheric emissions. The data will be received by an antenna on top of Everitt Lab. The little satellite, if it makes it into orbit, will circle earth 16 times a day, or about once every hour and a half.
But even more incredible than the satellite is the experience and collaboration that the students are involved in. There are 20 students in the class, divided into six teams. Swenson says that he and Coverstone and a few graduate students are there to help steer the students and to answer questions, but they let the students do all the problem-solving on their own. The graduate students are a key element to the day to day management of the class.
"We never take away the responsibility to solve their problems. That is the privilege of the engineer, who deserves the satisfaction of what is solved," says Swenson. "That's part of the class reward—learning the process."
The students are aided in their problems through a tight-knit national community of other engineers from all over the United States. They send e-mail to and collaborate with students from Berkeley, Cornell, Montana, and other universities.
Swenson says that this class comes at a great time for students. For engineering seniors, this helps them work towards their capstone project, something that they have to help design and build that represents the culmination of their engineering experience at Illinois. Students also are able to take advantage of the latest technologies and electrical components that they are very familiar working with.
"It's very exciting to use that technology and build a new system that can do different things in a small package," said Swenson. "So the challenges are quite large, but it's very straightforward to put the students together and get it accomplished."