NAS President Emeritus and ECE ILLINOIS alumnus Ralph J Cicerone dies at 73
ECE News
Rebecca Nash, ECE ILLINOIS
11/9/2016 4:31:31 PM
Story Highlights
ECE ILLINOIS alumnus Ralph J. Cicerone, one of the most influential atmospheric scientists of all time, passed away at his New Jersey home surrounded by family on November 5, 2016.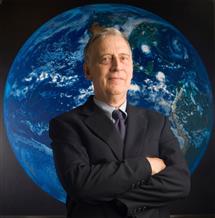 The first of his family to attend college, Cicerone received his BSEE from the Massachusetts Institute of Technology in 1965, where he was also the captain of the baseball team. He continued on to the University of Illinois, where he completed his MSEE in 1967 and his PhD in 1970. He received several honors from Illinois, including an ECE ILLINOIS Distinguished Alumnus Award (1992), an Engineering at Illinois Distinguished Alumni Award (2000), and an Honorary Doctorate Degree (2015). He was also a part of the Chancellor's speaker series in 2012.

After an extensive research career at the University of Michigan and Scripps Institution of Oceanography at the University of California, San Diego, he earned a position as senior scientist and director of the Atmospheric Chemistry Division of the National Center for Atmospheric Research in Boulder, Colorado. After spending nine years at the organization, he joined the University of California, Irvine faculty and earned the Daniel G. Aldrich Professorship of Earth System Science.
Cicerone continued on to become the Dean of Physical Sciences in 1994 and then the fourth Chancellor of UCI in 1998. In 2005, he left the university and became President of the
National Academy of Sciences (NAS)
. Under his leadership, he helped diversify the NAS and increased the number of women and minorities elected into the organization. He recently retired from this position in June 2016.
During his presidency, Cicerone represented the NAS in discussions with influential politicians and policymakers about controversial environmental concerns. In 2001, President George W. Bush requested he lead a key climate change study. His knowledge and integrity on prominent scientific issues even attracted the attention of President Obama, who traveled to the NAS headquarters on two separate occasions. Cicerone was passionate about sharing his thoughts about climate change, including in a 2011 NPR report.
During Cicerone's presidency, he led the restoration and renovation of the historic National Academy of Sciences Building and created a $500 million Gulf Research Program after the Deepwater Horizon environmental disaster. His research was cited in the 1995 Nobel Prize in chemistry awarded to his UCI colleague F. Sherwood Rowland. His groundbreaking research throughout his career helped identify the cause and effect of global climate change, and he assisted in authoring many publications targeted to educators, politicians, and the public about environmental science.

Cicerone is survived by his wife Carol M. Cicerone, their daughter, and two grandchildren.

Many notable media outlets have shared the news of his death, including The New York Times, NPR, and Nature.