Cunningham's research on biomarker detection recognized by science journals
ECE News
Hayley Eselevsky, ECE ILLINOIS
11/8/2012
Story Highlights
Research by Brian Cunningham on biomarker detection has resulting in two papers that were featured on journal covers.
One study focused on optics-based biosensors to provide disease diagnosis by detecting protein in blood.
The other developed ways to detect individual molecules that could be used to detect impurities in medicines.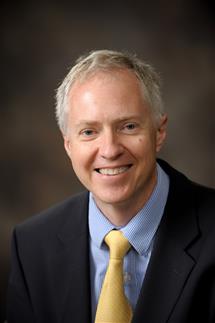 ECE Professor Brian T Cunningham and his colleagues have long been engaged in researching new technologies in biomarker detection and developing applications for this in modern medicine practices. This hard work has paid off with some recognition for their efforts. Two articles written by Cunningham and his colleagues have been selected by the editors of two science journals to be featured on their covers.
Cunningham and his colleagues' research focus mainly on nanophotonic surfaces, plastic-based nanofabrication method, and biodetection. Their research is further applied to patient and pharmaceutical screening, disease diagnostics, environmental monitoring and life science exploration.
Cunningham teamed up with Dr. Richard Zangar of Pacific Northwest National Labs for the article "Photonic Crystal Enhanced Fluorescence for Early Breast Cancer Biomarker Detection," which was featured on the cover of the August 2012 issue of The Journal of Biophotonics. This article focused on optics-based biosensors, featuring work by several current and former students in ECE and Bioengineering Nikhil Ganesh, Ian Block, Wei Zhang, Patrick Mathias, Jason Huang, Anusha Pokhriyal, Vikram Chaudhery, Sherine George, and Yafang Tan.
Cunningham and Zangar focused on developing a new technology that can detect protein in the blood. These technologies can be utilized for early disease detection, treatment follow-up and to aid doctors in selecting the best treatment for each patient.
"This article was motivated by our desire to provide more accurate and early disease diagnosis in a noninvasive and inexpensive way," explained Cunningham. "Our long term goal is for such technology to be used in the clinic."
This research can potentially revolutionize disease screening in its ability to make low-cost blood tests used for standard disease screening while simultaneously providing more accurate and earlier diagnoses in a noninvasive manner. This would benefit both health-care providers and patients in both the short and long-term by saving them both time and money.
"Such a test could complement more expensive imaging technologies, like MRIs, and look for a wide range of medical conditions, including several forms of cancer, cardiovascular disease, autoimmune diseases and even asthma," Cunningham said.
Cunningham and Zangar also looked at how this approach can be applied additionally to detect the concentration of pain medications in the bloodstream. This could develop a new approach for doctors to generate customized pain treatment plans catered to each patient.
On his second article, Cunningham worked with ECE student Hsin-Yu Wu and ECE alumnus Charles Choi on the article "Plasmonic Nano Gap-Enhanced Raman Scattering Using a Resonant Nanodome Array," which was featured on the September 24 cover of the science journal Small.
"This article was motivated by our desire to detect molecules, such as drugs, that are very small and very difficult to distinguish from one another without expensive equipment and long laboratory practices," Cunningham said. "This article described the design, fabrication, and testing of a new type of nanostructured optical surface that we call Photonic Nanodome Arrays (PNAs)."
PNAs were covered with microscopic domes of gold and silver with microscopic gaps in-between. These domes were designed to couple with a laser because the energy within these gaps is highly concentrated. The high enhancement factor Cunningham and his team measured was used to excite molecules entering the gap. To detect these molecules, Cunningham and his team used surface-enhanced Raman spectroscopy (SERS), a method of using scattered light to identify molecules and measure their concentrations.
"These PNA surfaces are made inexpensively using a nanoreplica modeling process that we developed so we can incorporate PNAs into inexpensive items like biomedical tubing, storage containers, and microscope slides," Cunningham said.
This method can also be applied to identify impurities in pharmaceuticals, toxins in food and medication in bodily fluids.
"One application we envision is the detection of urinary metabolites in a urinary catheter for monitoring the kidney functions of intensive-care patients," Cunningham said.
Currently, Cunningham and ece Professor Steve Lumetta are extending this research of biosensors to develop a process for using an iPhone4 as a detection device for a handheld biosensor, utilizing the camera as a high-resolution spectrometer. They believe that creating a handheld biosensor with Internet capability will prove to have a variety of uses. As an example, instead of having the patient visit to the lab, this device may have the capability of bringing the lab to the patient.
Cunningham largely appreciates having his articles highlighted on the journal covers.
"It's a nice honor," Cunningham said. "The editor [of the journal] is, in effect, highlighting our work and making it easier for people to find it. In the end, getting people to read about our research and findings is what we want."