Hasegawa-Johnson and Li receive Dean's Award for Excellence in Research
ECE News
Heather Punke, ECE ILLINOIS
5/16/2012
Story Highlights
Mark Hasegawa-Johnson and Xiuling Li both received the 2012 Dean's Award for Excellence in Research.
Hasagawa-Johnson was recognized for his work in speech recognition technology.
Li was recognized for work in nanotechnology-related research.
ECE Associate Professor Mark Hasegawa-Johnson and ECE Assistant Professor Xiuling Li are both recipients of the 2012 Dean's Award for Excellence in Research.
Hasegawa-Johnson, a researcher in the Beckman Institute for Advanced Science and Technology and the Coordinated Science Lab, received his award for his work in speech recognition technology. He said he was happy to be one of this year's recipients. "It's nice to have that confirmation that your research is noticed," he said.
He and his team have been working on mathematically formalizing theories from linguistics. His most recent work has been based on a particular model of human speech perception. "When [people] listen to an audio signal, there are events that stand out, or are perceptually salient to the listener," Hasegawa-Johnson said. "A lot of the information relevant to deciding exactly what the person said tends to be localized in time, very close to that perceptually salient event."
When that model of speech perception is transferred to speech recognizers, it can improve the accuracy of the recognizers. "It [the recognizer is] focused differentially well on the moments of time, the 20 to 70 milliseconds right around one of these perceptually salient syllable peaks or rapid transitions," Hasegawa-Johnson said.
He and his team published this new technology, and Hasegawa-Johnson says he believes people in industry have been using those publications. "We made a decision early on that the learning technologies aren't different in a way that would be easy to patent so instead we just published them and people have been taking advantage of these ideas I think and building them into commercial speech recognizers."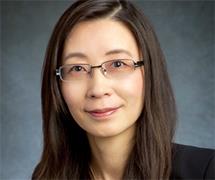 Li, a researcher in the Micro and Nanotechnology Lab, was also pleased to find out she would receive the Dean's Award. "I'm grateful that my research efforts get recognized," she said.
Her research group has three main themes of nanotechnology-related research they have been focusing on that earned Li the award.
One of the focuses is on nanowire based electronics. Their discovery of the planar nanowire growth not only makes nanowire array based electronics compatible with existing processing technology, but also enables in-plane modulation of nanowire electrical properties during growth. "We're also getting better mobilities compared to other nanowire growth methods, so the transistor will be faster" Li said.
The other thrust of her research is strain-induced rolled-up membranes. Thin membranes of semiconductors and their hybrid with metal and dielectrics are deposited or patterned on a flat surface, but when they are released, they "buckle up" into a tubular or helical structure. "We're basically building 3D architectures using 2D processing techniques," Li explained. "Imagine what the additional degree of freedom (curvature) could do to the physical properties and new applications can be enabled by the curvilinear structure," she said.
The third research area created a new semiconductor etching technique. Traditionally, people are limited to either wet etching—which is cheap but isotopic—or dry etching—which is expensive, but directional. This new technique, called metal assisted chemical etching (MacEtch), is the best of both worlds because it is inexpensive but directional. "So far we've demonstrated silicon based solar cells and thermoelectric devices [and] we're actively working on III-V based devices using this method," Li said.
Li said that the research being done by her group would not be possible without the students and collaborators on this campus. "[They] are essential to the success of our research," she said
The pair received their awards on April 23 at the Engineering at Illinois Faculty Awards Ceremony.