NIH establishes cancer nanotechnology training center at Illinois
ECE News
Rick Kubetz, College of Engineering
10/1/2010
Story Highlights
A grant from NIH will establish a new Midwest Cancer Nanotechnology Training Center at the University of Illinois at Urbana-Champaign.
ECE Professor Rashid Bashir is one of the co-principal investigators for the project.
The center will train students to use nanotechnology for early detection, therapeutic intervention, and imaging of cancer.
A recently announced grant from the National Institutes of Health will establish a new M-CNTC: Midwest Cancer Nanotechnology Training Center at the University of Illinois at Urbana-Champaign. Funded by the NIH/NCI Alliance for Nanotechnology in Cancer, the M-CNTC will serve as a regional hub, partnering with the Mayo Clinic, University of Illinois at Chicago, Washington University at Saint Louis, and the Indiana University School of Medicine.
"This grant is a significant recognition of Illinois' leadership in nanotechnology and bioengineering," explained Ilesanmi Adesida, dean of the College of Engineering. "The ultimate goals of the educational component of this program are to train the next generation of researchers and educators in the interdisciplinary area of cancer nanotechnology and to aid the NCI Alliance in building a community of faculty, PhD students, post-docs, and colleagues from clinical institutions to collaborate on education and research."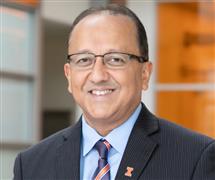 ECE and Bioengineering Professor Rashid Bashir and Ann Nardulli, professor of molecular and integrative physiology, are co-principal investigators for the project.
"Imaging and characterization of normal mammary and breast cancer tissue, and identification of novel tumor markers are among some of the key challenges facing cancer researchers and nanotechnology can play a critical role," Nardulli said.
"Effective application of nanotechnology to cancer treatment needs formal training of both nanoscience and cancer biology," said Bashir, who is also the director of the Micro and Nanotechnology Laboratory. "In this training center, the graduate students and the post docs will be trained to employ nanotechnology to develop novel sensors for early detection of cancer from body fluids, new therapeutic interventions using nanoscale drug payloads, state-of-the-art in-vivo imaging nanotechnology, and interface of nanotechnology with mechanobiology."
According to the grant proposal, this new generation of educators and researchers will be knowledgeable in cancer biology, nanotechnology, and nanoengineering, and will have developed a network of resources (people, facilities, international connections) that will benefit them in their future careers. The project will develop innovative methods to integrate education and research in the area of cancer nanotechnology. The thematic basis of the proposed integrative efforts spans around the pathway of cancer, especially with a focus on early ex-vivo detection, in-vivo imaging and detection, therapeutic interventions, and understanding the physical basis of cancer metastasis using integration of nanotechnology and mechanobiology.
In addition to Bashir and Nardulli, Irfan Ahmad, associate director of the Center for Nanoscale Science and Technology (CNST); Lizanne DeStefano, director of the I-STEM, Taher Saif, and K. J. Hsia, professors of mechanical science and engineering; Steve Sligar, professor of biochemistry; and one member from each clinical partner institutions (on a 1-year rotating term) will form the M-CNTC executive committee. An internal advisor committee at Illinois will include: Adesida; Ruth Watkins, Dean of the College of Liberal Arts and Sciences; Herb Whiteley, Dean of College of Veterinary Medicine; and Deba Dutta, Dean of Graduate College.
"Once the program is fully institutionalized at Illinois, we also want to offer a certificate program in cancer nanotechnology at the University," added Bashir. As part of communicating science to the public, the members of the M-CNTC team will be working to build on existing partnership with the Chicago Museum of Science and Industry to help develop a nanotechnology exhibit for 2010 launch.
The M-CNTC proposal benefited from a recently completed NCI-funded UIUC node for the Siteman Center for Cancer Nanotechnology Excellence with Washington University in St. Louis, and the work undertaken under the aegis of the University of Illinois Center for Nanoscale Science and Technology (CNST), and the recently introduced Bionanotechnology and Nanomedicine research thrusts at the Micro and Nanotechnology Laboratory.