Illinois ECE alumni are some of the most interesting people we know. To celebrate them, we've decided to ask them questions both serious and fun. Here, you'll find their Ten (sometimes more) Answers.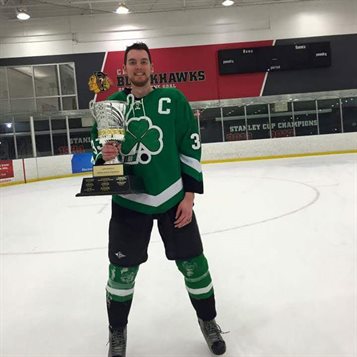 Andy Leon (BSEE '09) joined Invenergy in 2013 as an electrical engineer supporting the development and construction of renewable power plants. He now oversees a multidisciplinary group of engineers that are building gigawatts of new wind, solar and energy storage projects. Andy grew up in Chicago and is passionate about renewable energy, music, and playing ice hockey. Andy actually learned how to ice skate in a kinesiology class at Illinois!
What was your favorite place to study?
The Grainger Engineering Library was always my go-to spot for serious studying!
What was your favorite ECE course and why?
ECE 333 - Green Electric Engergy ignited my passion for renewable energy. During this class in 2008 we actually took a field trip to an operating Invenergy wind farm. Clearly, that trip left its mark on me...
Did you have a faculty advisor/mentor while at Illinois ECE? What do you remember most about them?

Dr. Marie-Christine Brunet was my faculty mentor. It can be overwhelming to start a challenging program such as ECE but I distinctly remember Dr. Brunet's calming and motivating presence keeping me grounded and focused in my studies at Illinois.
What was your greatest accomplishment while at Illinois ECE?
I was selected for the Grainger Power Engineering Award in 2009. This was a key milestone for me after deciding to pursue a specialization in power systems and a career in energy.
What do you think is the next big idea that's going to change the way we live?
Electrification and decarbonizing our power grid.
What's your favorite technological advancement so far?
It has been particularly exciting to watch the wide scale deployment of large energy storage systems to assist with the challenges associated with intermittent renewable energy sources such as wind and solar.
Why did you choose Illinois/ECE?
When I visited Illinois, I fell in love with the campus and the Illinois ECE program was at the top of my list being one of the top programs in the country.
How did your time at Illinois affect your career?
Every day I use the problem solving skills instilled in me at Illinois to tackle complex engineering challenges. At Illinois, you are surrounded by current and future industry leaders and I walked away with the confidence to launch my own career.
Advice you would like to share to current/future students?
I still remember what it was like to transition from high school into engineering coursework. It's never easy, but don't let frustrations and setbacks deter you from your goals. Don't forget to take advantage of professors and TAs generous offers to provide extra help in office hours!
What is something you've learned during the pandemic?
I've been an amateur guitarist for a long time but I made music my primary hobby while stuck inside during the pandemic. I've been learning music theory and recording techniques, and have started trying to write and record my own original music now.
What is the last book you read or movie/TV show you watched?
I recently read Dark Matter by Blake Crouch. I thought it was a great thriller with a healthy dose of science fiction!

Do you have answers? Email us at ece@illinois.edu, and we may feature you in the future.