2013 Marcia Peterman ECE Award
In recognition of devoted and loyal service to the University of Illinois and the Alumni Association.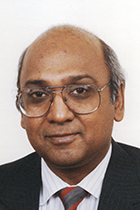 Vishwani Agrawal served on the ECE Alumni Board of Directors from 1999-2005. His areas of expertise include VLSI testing, low-power design, and microwave antennas.
After earning his PhD in electrical engineering from Illinois, Vishwani began a long and successful career. His industry experience includes working at Automation Technology, Bell Labs, TRW Defense & Space Systems Group, and Agere Systems. Vishwani was part of the faculty at the Indian Institute of Technology in New Delhi, India, and Rutgers University in Piscataway, New Jersey, before joining Auburn University.
Among Vishwani's many honors are the ECE Distinguished Alumnus Award, the Harry H. Goode Memorial Award of the IEEE Computer Society, two Lifetime Achievement Awards, and eight Best Paper Awards. He is a Fellow of the IETE-India, the IEEE and ACM. He holds 13 US patents and has authored 350 papers and five books.
Vishwani and his wife, Prathima, who is also an ECE professor, reside in Auburn, Alabama. They have a son, Vikas, in San Francisco and a daughter, Chitra, in Brooklyn.