2007 Marcia Peterman ECE Award
In recognition of devoted and loyal service to the University of Illinois and the Alumni Association.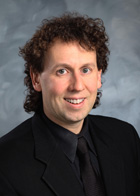 An acknowledged device physics expert in power management and IC technology, Richard Williams has invented many landmark products. Prior to cofounding AnalogicTech in 1998, Richard spent 18 years at Siliconix where he was senior director of device concept and design. He invented and developed several milestone devices, including an airbag controller IC for Mercedes-Benz, a LiIon battery disconnect switch for Sony and Apple Computer, and the first production Trench Power MOSFET.
Richard holds more than 200 US patents in device, process, package, circuit, system, and application methods and apparatus, and has written over 100 published articles and invited papers. He is a member of the Institute of Electrical and Electronic Engineers.
A three-term ECE Alumni Association board member, Richard served from July 1996 to July 2006. He was the western region vice president for his second and third terms, starting in July 1999.
In addition to his Illinois degree, Richard holds a master's in electrical engineering from Santa Clara University.