2005 Marcia Peterman ECE Award
In recognition of devoted and loyal service to the University of Illinois and the Alumni Association.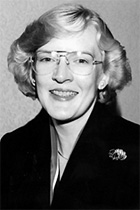 Daryl Farley Varney is Senior Manager of IMS Product Management at Lucent Technologies with responsibility for Lucent's Next Generation Telephony product. Daryl joined AT&T in Product Management for Computer Systems in 1985. She then moved to AT&T Bell Laboratories where she held systems engineering roles on the 5ESSâ Switching System. In 1996 she joined Lucent Technologies when the company was split off from AT&T. Her twenty-year career with AT&T/Lucent Technologies includes experience in product management, systems engineering, quality, and R&D business management in telecommunications and computer systems. She is currently serving as the Society of Women Engineers Chicago Regional Section Director to the Illinois Engineering Council.
Daryl Varney was a member of the ECE Alumni Board from 1989 to 2004, serving as president from 1998 to 2001. While serving on the Board, Daryl helped establish the first alumni student mentoring program, Alumni-Student Connections. She received the Orange and Blue Appreciation Award in 2004.