2020 Distinguished Alumni Award
For outstanding business and technical leadership in electronic production and automated test.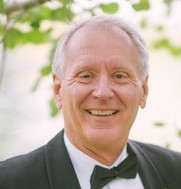 Jack retired from Agilent technologies in 2007 as a Senior Vice President. During his time at Agilent, he led the Automated Test Group (ATG), Communications Management Solutions Business Unit (CMS) and Operational Support Systems Division (OSSD). He also helped lead the successful IPO of the Agilent Semiconductor Test Business, resulting in the creation of Verigy Technologies, Inc. In these roles, Jack managed businesses in Colorado, California, Japan, Germany, the United Kingdom, Ireland, Singapore and China.
Prior to Agilent, Jack spent 29 years at Hewlett-Packard. His roles ranged from R&D engineer; General Manager (GM) of the Loveland Technology Center (a captive integrated circuit design and manufacturing business); R&D Manager, Marketing Manager, and GM of the Manufacturing Test Division; and GM of the Bristol, England-based Data Protection Business.
After graduating from Illinois ECE with his bachelor's degree and having spent his junior year at the Technical University of Munich, Jack went on to receive his master's in electrical engineering from Stanford University and his executive MBA from INSEAD in Fontainebleau, France. He is proficient in German and is now learning Hawaiian, while also learning Hawaiian slack key guitar. Outside of work, Jack is an avid road, mountain, and gravel bike rider as well as alpine and Nordic skier. He spent eight years as an on-mountain ambassador for the Steamboat Springs Ski and Resort Association, six years as Chairman of the Parks and Recreation Commission for the City of Steamboat Springs and serves on several local boards. He has spent time as a SCORE volunteer in his local community providing analysis, training, coaching, and mentoring for small businesses.
Current as of 2020.