2017 Distinguished Alumni Award
For promoting peace through leadership and technical contributions to the U.S. Air Force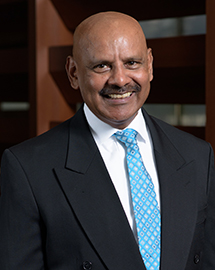 Azar S. Ali is the primary authority and integrator of Pacific Air Forces' (PA CAF) science and technology requirements. In this role, he identifies and advocates for emergent air, space, and cyberspace science and technology solutions. A member of the Senior Executive Service and the senior science and technology adviser to the PA CAF Commander, Ali provides technical expertise and serves as the interface between PA CAF and entities including NASA, the Department of Energy, and other major commands, services, industry, federally-funded research and development centers, and the scientific community at large.
Ali served as the Senior Strategic Technical Advisor for the Munitions Directorate, Air Force Research Laboratory, at Eglin Air Force Base, Florida, where he developed new and novel weapons concepts, leveraging the most advanced technologies for precision navigation, guidance, and control. He also worked closely with the Secretary of the Air Force, International Affairs, and the Office of the Secretary of Defense and established project agreements with Italy and Germany.
Ali held a number of positions in the air-launched munitions community, and he was instrumental in the recently successful development and live fire testing of a remotely piloted- aircraft launched weapon for U.S. Special Operations Command.
Previously, he served as a professor in electrical engineering at the U.S. Air Force Academy and was a microwave and satellite systems engineer for PA CAF. Ali enlisted in the Air Force as a medic/pharmacy technician in 1974 and honorably retired from active duty at the rank of major in 1998. In addition to his two degrees from ECE ILLINOIS, he earned his PhD from University of Colorado.