2014 Distinguished Alumni Award
For significant contributions in engineering education and leadership, and in the field of satellite communications.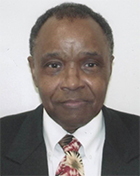 Walter Atkins is the president and principal business coach at Pacific HiTech Development, a business and technology consulting firm specializing in the development and growth of technology-related businesses.
Walt founded Pacific HiTech Development after retirement from Hughes Space and Communications Company, where he was general manager and business unit leader for the Military Satellite Communications Business. During his earlier career, he served as Hughes' chief quality officer. His first assignment at Hughes was as the chief scientist of Advanced Space Programs. Prior to joining Hughes, Walt was director of the Communications Technology Center for Tracor Applied Sciences, where he also was chief engineer of the Applied Technology Division.
Walt served in the U. S. Air Force for 21 years. During his career, he served as deputy department head and tenured professor of electrical engineering at the U.S. Air Force Academy and as an adjunct instructor at five other universities. His final assignment was as a space systems manager, on the staff of the Chairman of the Joint Chiefs of Staff in the Pentagon.
Walt has received many honors, including the National Black Engineer of the Year Award for Professional Achievement in Industry, The Defense Department Meritorious Service Medal, The Air Force Meritorious Service Medal, and the Air Force Commendation Medal. He received his BS from Howard University in Washington, D.C. in 1965.