Cunningham leads development of Star Trek-inspired Smartphone Spectroscopy
ECE ILLINOIS Professor Brian T Cunningham, Donald Biggar Willett Professor in Engineering, is leading a team of researchers to exploit the convergence of smartphone computing and spectroscopy. According to Photonics Media, Cunningham's research team developed the TRI Analyzer, a 3D-printed cable that attaches to the back of a smartphone and uses the phone's internal camera as a visible-light spectrometer. "Cellphones today are very well engineered," Cunningham said. "And their hardware and software are very well-integrated."
Inspired by the Star Trek "tricorder," the TRI Analyzer can detect the photon emission spectrum of liquids used in three common biological diagnostic tests including an assay for fetal fibronectin protein which can indicate preterm birth, phenylketonuria screening for newborns, and an assay for the soluble transferrin receptor which is a biomarker of iron deficiency. The results from the TRI Analyzer were comparable to clinical-grade spectrometers.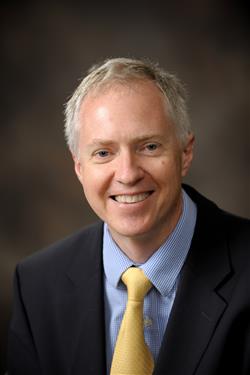 "We view it as a portable lab," Cunningham said. "In practice, we could adapt the analyzer to thousands of already developed tests. It would have a lot of benefit where [patients] may not have access to them. By leveraging the smartphone's existing components, the researchers were able to use an optical fiber to direct light from the phone's flash to a liquid compartment in a microfluidic chamber. After the light bounces off a mirror and travels to a second optical fiber onto a diffraction gradient, an app on the phone analyzes the video to detect any subtle changes that occur in the diagnostic tests.
"This approach is just better for the biological assays we have in mind, which generate colored products in the visible light range," said Cunningham. "We anticipate making these cradles for popular phone models."
Cunningham also serves as the Director of the MNTL and is affiliated with the Beckman Institute.
Read more from Photonics Media