Haran co-creating new Electric Aircraft Technologies Symposium
With small, fully electric, light aircraft are already taking to the skies, how long will it be before new technologies can be successfully applied to much larger, commercial transport aircraft—making flight less reliant on fossil fuel and the future of air travel more sustainable?
To answer these questions, ECE ILLINOIS Associate Professor Kiruba Sivasubramaniam Haran will be playing a key role in the first-ever conference on the topic, serving as the general co-chair and on the transportation committee with the IEEE for the first ever AIAA/IEEE Electric Aircraft Technologies Symposium.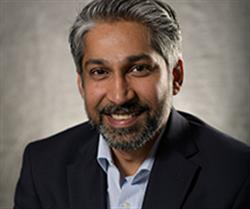 Aditionally, University of Illinois aerospace engineer Phillip J Ansell will be serving as the technical chair of the symposium along with Andy Gibson, the technical co-chair who is president of Empirical Systems Aerospace. "We are the first to review the abstracts and then pass them along to the organizing committee," Ansell says. "We want to make sure that the conference is based on good science."
Ansell says "There has been a growing desire to pursue aircraft propulsion electrification, either through an all-electric system with battery or fuel-cell systems with electrically-driven motors, or through hybrid architectures where these electrical propulsion systems are coupled with more traditional combustion engines and turbines. It'll happen. It's just a matter of when."
Ansell says the aeronautics/aerodynamics community and the electronics community have been pursuing possibilities, but each within their own discipline. Consequently, the effort to bring them together to work toward solutions will take place at the Duke Energy Convention Center in Cincinnati, Ohio, on July 12 and 13, immediately following the AIAA Propulsion and Energy Forum.
"The nice thing about this symposium is that it's supported and co-hosted by both the professional organization for the aeronautics industry, which is AIAA, as well as IEEE from the electrical engineering industry. We're bringing the two communities together to talk to each other," Ansell says.
Ansell and Haran received a grant from Illinois' College of Engineering to conduct the conference through the Strategic Research Initiative Program (SIIP). "Originally we'd planned to do just a small workshop but decided to aim bigger by bringing in the professional societies, including AIAA," Ansell says. "Their Propulsion and Energy Forum is a large, established conference for aircraft and spacecraft propulsion and it's being held at the same location in Cincinnati immediately before our conference, so people can attend both events." Although there are separate registrations for each conference, those who attend both can register for a reduced rate.
According to Ansell, one of the biggest hurdles with using battery technology for electricity storage is the weight of the batteries. "The amount of energy that you can store per unit weight is extremely low in comparison to petroleum-based fuel sources. It has a significant impact on how far an aircraft can fly. We've done some analyses: If I were to take a Boeing 737, loaded with fuel, I could fly it over 3,000 miles, but if I use today's battery technology, I can hardly even get to cruise at a regular altitude. The difference in energy, with some advancements over the next 15 years, we'll probably be able to fly missions over 500 to 1,000 miles, though the exact distance will depend on what proportion of the total propulsion system is electric," Ansell says.
Another aspect of propulsion electrification that Ansell is excited about is that it permits additional flexibility in how the vehicle operates and is designed. "In today's aircraft, the engines hang under the wings. But, what if this configuration limits the efficiency or operational capabilities of your aircraft? What if we look at a more synergistic integration of the propulsive devices with the aircraft itself? Instead of isolated entities, there are a lot of ways that you can couple the aerodynamics of the vehicle with the influence of those propulsive devices on the flow about the aircraft, when you don't have to worry about positioning fuel tanks, pumps, and supply channels. It is quite a bit easier to run electrical cables to propulsion units to unconventional locations around the aircraft than it is to supply fuel to those locations."
Industry has been the primary driver behind the developments to date, says Ansell. Many of the industries that are heavily invested and involved will have a significant representation at the conference and in the organizational committee for the conference as well.
"This community of aerospace/aeronautical engineers alongside electrical engineers is so excited to make this happen now," Ansell says. "It has taken cars a long time to get to this point, and even though electric cars still can't drive coast to coast on a single charge, they've certainly paved the way for aircraft."
Read the original article on the Aerospace at Illinois site.