Haran's startup aims to reinvent domestic air travel
ECE ILLINOIS Associate Professor Kiruba Sivasubramaniam Haran, co-founder of the startup Zunum Aero, is aiming to reinvent congested air travel on the nation's most traveled regional routes.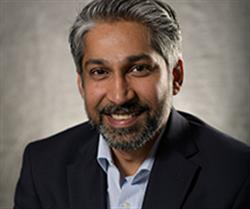 Haran currently leads a NASA-funded program to develop electric airliners that reduce carbon emissions. By implementing these jets into everyday travel, fuel costs diminish and ticket fares could be reduced up to 80 percent. Currently, tickets for frequent regional routes such as San Francisco to Los Angeles or Boston to Washington, D.C. can reach up to $200 for one way.
These small, electric jets will also cut travel times in half. Fewer TSA regulations are enforced on smaller planes and hybrid-electric jets are able to travel faster than traditional planes. The first aircrafts introduced into the market will be able to fit 10-15 passengers and travel up to 700 miles. By 2030, the startup aims to have planes flying over 1,000 miles.
Zumun Aero is currently in the building phase and expects to have lift off in the early 2020s. With this technology, "many cities around us that could be connected directly by air that don't have such service today," noted Haran.
To learn more about Haran and Zunum Aero, read these articles posted by ChicagoInno and The Verge.