Professors honored at College of Engineering faculty awards ceremony
Several ECE ILLINOIS faculty members were recently recognized with Engineering at Illinois faculty awards.
Dean's Award for Excellence in Research - Alejandro Dominguez-Garcia
Associate Professor Alejandro Dominguez-Garcia was recently awarded the 2015 Dean's Award for Excellence in Research by the College of Engineering. The annual award recognizes professors who have done outstanding research during the past year.
Dominguez-Garcia said it was an honor to be recognized by the college and his peers. He was nominated for the award by Professor Peter Sauer, a frequent mentor and collaborator of Dominguez-Garcia's.
"Pete and I have worked on many things together and it is fun to have him around," Dominguez-Garcia said. "I'm really grateful to him, not just for nominating me for awards, but also the technical discussions and work we have done together. That has made a big difference."
Dominguez-Garcia is a member of the power and energy systems area at ECE ILLINOIS, but he describes his area of research as an intersection of power, reliability, control, and communications.
He is currently working with integrating renewable generation and power systems and its impact on operations. In addition, he is also developing an algorithm to coordinate responses of distributed energy sources, while also researching the impact cyber layer failures have on the overall operations of a power system.
Dominguez-Garcia said he's grateful for Illinois' world-class students and faculty and the institution's collaborative spirit.
"There are pretty much no boundaries in terms of working with people here," Dominguez-Garcia said. "You can talk to people across disciplines with regards to various research topics. I frequently work with people in the mathematics department. The collaborative atmosphere contributes to the creation of great things."
As he continues to move forward in his career, Dominguez-Garcia hopes to be able to solve energy problems in developing countries that could benefit from the distribution of renewable sources of power.
"One of the things that I things that I think will have a huge impact is contributing to the electrification of areas in developing countries," Dominguez-Garcia said. "If I can make a contribution in that area by coming up with architectures and cheap ways to do it, that would have a lot of significance."
Drucker Award - Peter Sauer
Sauer received Engineering at Illinois' Tau Beta Pi Daniel C. Drucker award, which recognizes his outstanding record of accomplishment both within and beyond the boundaries of Illinois.
Sauer considers it the highest honor in the College of Engineering. The award recognizes engineering faculty members for their commitment to academic excellence through teaching and research.
In addition, as a young professor, Sauer had a personal experience with Drucker, then the dean of Engineering at Illinois, which makes the award more meaningful to him.
"Drucker told The News-Gazette that he would eliminate the minority engineering program and the electric power program from ECE if cuts had to be made," Sauer said. "However, my mentors informed me that a program like that cannot be arbitrarily eliminated - only department closures can do that. His declaration resulted in a stream of letters that supported the minority engineering program and the electric power program, and to this day I suspect that he made those dire predictions in order to generate letters of support for Illinois."
Sauer specializes in dynamic modeling and analysis of electric power systems. He developed his passion for the field through his time with fellow Drucker award winner Professor Emeritus Petar Kokotovic, a mentor and collaborator of Sauer's.
In the future, Sauer hopes to provide the same mentorship to younger faculty members that he received when he first started at Illinois. He pointed that the quality of the faculty at Illinois creates a welcoming and innovative atmosphere within the department that has led to its success.
"It is this collegiality that stimulated my research success and allowed me to achieve things that I would never have imagined," Sauer said. "We hire people that fit into that mold and we provide an atmosphere where they will succeed. I am grateful for my colleagues and the Grainger Foundation, who have allowed me to achieve the things that have contributed to my selection for this award."
Engineering Council Outstanding Adviser - Ravishankar Iyer
At the College of Engineering Faculty Awards Ceremony, Professor Ravishankar K Iyer was also recognized as a 2015 Engineering Council Outstanding Adviser.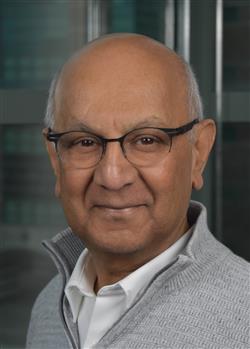 The award recognizes advisers who have been nominated by students based on their helpfulness and caring towards their graduate students.
He specializes in research of secure network system and computing genomics research, for which he has received numerous awards throughout his 26 years at Illinois. Iyer is also a professor in the DEPEND Research group, which focuses on the research, design and validation of highly available and reliable computing systems and networks.