Haran wins $2M NASA Fixed Wing Project
We all know the familiar sight of airplanes screaming through the clouds, spitting white trails that seem to split the sky in two. Emissions from aircraft make up only about 2 or 3 percent of all of humanity's greenhouse gas emissions. However, the emissions they do produce are much more harmful to the environment than pollutants from the ground because airplanes emit their pollutants directly into the Earth's atmosphere. As the volume of air traffic explodes with increasing people and goods traversing the globe, aircraft designs need to quickly become much more efficient to keep from contributing more to climate change.
This is where ECE Associate Professor Kiruba Sivasubramaniam Haran comes in. He, with co-investigators Professor Philip T Krein and Assistant Professor Robert Pilawa-Podgurski, won a $2 million research project from NASA's Fixed Wing program to make future aircraft propulsion systems lighter, more energy-efficient, deliver more power, and run on alternative fuel blends and electrical-powered hybrids.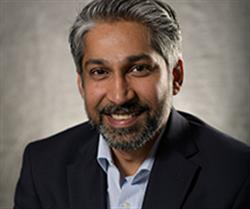 The Fixed Wing program's requirements are quite steep, requesting improvements such as sharp cuts in emissions, hard gains in efficiency, and the ability to run on hybrid and alternative fuel sources such as fuel cells and biofuels.
"NASA has given us some very challenging metrics to meet, as they're looking for truly disruptive clean technologies, for example hybrids: think the Prius or the Tesla of the sky," Haran said. "It isn't going to be just one aspect of the machine that needs to be fixed. We need to look at a variety of facets, from the motor, the power electronic drive, the cooling system, and the whole electromechanical system, to make significant changes in the technology's power density."
The tall orders that NASA presents, in its solicitation for engines that are not only lighter, but also deliver more power and use less fuel, can seem to average viewers almost like a fantastical problem out of Monty Python and the Holy Grail, such as how a swallow could carry a coconut, or being challenged to cut down a tree with a herring.
However, after examining designs for airplane motors, Haran came up with a number of ways to improve upon current designs, ranging from replacing materials to increasing the frequency of the fans' rotation and the cycles per second of the electronic circuits.
Haran explains that conventional motors rely on a lot of copper, iron and steel, and proposed a much lighter design that eschewed traditional metal components in favor of advanced composites like carbon fiber. Another way he saved weight in the design was integrating parts of the machine that in most aircraft are separate, for instance, combining the motor and the drive.
Apart from making the designs lighter, Haran also wanted the motor to turn faster. A motor spins when electromagnets in its design are constantly alternated in charge, and the faster the electric excitation can be alternated, the faster the motor spins. Haran's design dramatically increased the frequency of this change from the traditional 60 – 400 cycles per second, or hertz, to about 10,000 hertz.
Haran's motors are also placed on different areas of the aircraft. Modern commercial planes usually have two bulky jet engines on either side of the plane that drag planes down. The planes that Haran's design will work for are much flatter and more streamlined, and the engines will be implemented in a more aerodynamic way to make air flow as smoothly as possible, such as by keeping them all on top of the plane in a design similar to that of a car spoiler.
The design also relies much more on electrical components, as NASA's solicitation asked for a concept that could deliver airplanes that flew on alternative fuel blends and being powered partially by electricity.
"With the continued trend towards more electric drive in all areas of transportation, the underlying technology, namely electric machines and the associated power electronics, need to be continuously improved to gain increased efficiency and reduced cost," Pilawa said. "Electric aircraft are an area of great potential, but much work remains to be completed to see their widespread adoption."
The task NASA presented can seem daunting, but the Fixed Wing program eagerly received Haran's proposal and, after negotiating the contract, NASA's Fixed Wing Manager Ruben Del Rosario was ecstatic about the project ahead.
"We believe Professor Haran's proposal to push the state-of-the-art is very innovative and promising," Del Rosario said. "We look forward to collaborating with his team on their winning research proposal to design, fabricate, and test new electric motor concepts that can deliver the power density needed for aviation applications without compromising efficiency."
Along with Pilawa and Krein, Haran will be working alongside United Technologies Research Center and Automated Dynamics in Schenectady, NY, and a team of graduate students to pursue every avenue that he proposed. What excites him even more than the fact that he's working on an impactful NASA project is how cross-disciplinary the work is going to be. While Haran sees that his work could revolutionize aviation, as a professor he came to ECE ILLINOIS to teach and work with students, and he can't wait to train a new generation of student designers on a project that combines areas running the whole engineering spectrum.
"This project could have a great impact on the environment, in terms of making airplanes cleaner and reducing emissions," Haran said. "But what really excites me is the opportunity to work with students and showing them how different aspects interact to make the design work. You can't tackle something like this from just improved materials, just optimizing the electromagnetic design or just better controls, and I'm very happy that a new generation of engineers have this kind of training ground to explore all of the different dimensions of machine design."