Texas Instruments pledges $3.2 million gift for ECE ILLINOIS lab and student meeting space
As ECE ILLINOIS opens a state-of-the art building Monday to 2,500 students, among the finishing touches are signs for the Texas Instruments Electronics Design Lab and Texas Instruments Student Center.
Texas Instruments (TI), the global semiconductor company, has pledged a $3.2 million gift to ECE ILLINOIS to name the spaces. Both are located on the first floor, adjacent to the lobby, and will provide opportunities for students to learn through active involvement.
The Texas Instruments Electronics Design Lab is where every ECE freshman will take ECE 110, Introduction to Electronics. This class allows students to learn the ins and outs of electronic devices, ultimately designing a small robotic car or similar final project. The Texas Instruments Student Center, meanwhile, is where student groups like IEEE and Women in Electrical and Computer Engineering will have offices and collaborative workspace. Texas Instruments is also donating $10,000 worth of laboratory equipment for use in the new building.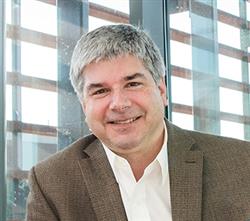 "This tremendous gift from Texas Instruments will enable our students to start thinking like creative problem-solvers at the beginning of their academic careers," said ECE Department Head William H Sanders. "We are so grateful for this partnership with TI, and we believe the company's support will benefit our students as they learn about engineering and hone their leadership skills in one of our many student organizations."
Illinois and Texas Instruments, in fact, have a long and storied history, including shared links to some of the seminal semiconductor breakthroughs of the mid-20th century.
First, there's the transistor, co-invented in the late 1940s by John Bardeen - later a long-time Illinois professor. Texas Instruments then built on this work, developing the first commercial silicon-based transistor in 1954, when the company was scarcely three years old.
Then, in 1958, ECE alumnus Jack Kilby (BSEE '47) joined the company's research team and spent the summer working on what proved to be the first integrated circuit—a breakthrough that changed the course of technological development. Electronic devices could be made smaller, with functions that would have required an entire circuit board concentrated onto a single chip. These circuits have continued to shrink over the years until, now, some microchips concentrate more than one billion transistors onto their surface.
For many incoming students, the most familiar piece of Texas Instruments equipment might be the TI-84—the graphing calculator that bore them through AP calculus. This device is the direct ancestor of Kilby's work. Not only did the integrated circuit enable pocket calculators, but Kilby himself invented the first, in 1961—a device that could solve the same mathematical calculations as large, non-portable desktop models.
Even for those freshmen who are more familiar with Texas Instruments' calculators, rather than microchips, when they enter the new engineering building this fall, it will take little time for them - as has been proven with previous incoming classes—to realize the far-reaching importance of the company's semiconductor devices. In their designs for ECE 110 the students will have the opportunity to use Texas Instruments' embedded systems and analog chips.
"The lab takes the students beyond cookbook-style procedures and promotes exciting design activities. Solving real challenges motivates students very early as they investigate electrical and computer engineering," said Senior Lecturer and Chief Undergraduate Academic Adviser Christopher Schmitz, also the ECE 110 course director."This lab space provides everything needed for learning through collaboration and hands-on exploration."
In the Texas Instruments Student Center, meanwhile, students will develop and refine their leadership acumen and collaborative skills as they brainstorm projects. Some could be design projects, like the robots that are demonstrated each year at Engineering Open House, and others could be community-related, like the socials hosted by the ECE Student Advancement Committee and the student-run magazine, IEEE Spark.
Texas Instruments, for its part, looks to ECE ILLINOIS for young engineers.
"Great engineers of the future will walk through University of Illinois' doors, and TI is delighted to play a part in what they will learn," said Haviv Ilan, senior vice president at Texas Instruments. "We know the students who spend time here will be ready to tackle some of the world's tough problems through engineering and technology, and the legacies they will someday leave will improve lives."
Every year, exceptional incoming students will enter the Texas Instruments Electronics Design Lab, at the launching point of their engineering career, prepared for learning and inspiration. And who knows, the next Kilby-like innovator could be just around the corner—someone destined to change the course of technological development for decades to come.
As ECE ILLINOIS opens the $95 million building, opportunities still exist for corporate and private support of the building campaign. The State of Illinois has paid for half of the construction and furnishing expenses, while the other half is being matched with gifts of all sizes, from alumni and friends of all sorts.
You can also contribute through the Buy and Bit Building Wish List—an interactive guide to spaces and equipment in the building—or contact Steven George, the senior director of advancement, by email or by calling (217) 244-8023 for more information about how to donate.