Bashir to head Department of Bioengineering
Rashid Bashir, director of the Micro and Nanotechnology Laboratory at Illinois, will be the next head of the Department of Bioengineering, beginning August 16, 2013.
As Abel Bliss Professor of Electrical and Computer Engineering and Bioengineering, Bashir leads two efforts to train the next generation of leaders in nanotechnology and bioengineering: the Integrative Graduate Education and Research Traineeship (IGERT) on Cellular and Molecular Mechanics and Bionanotechnology and the Midwest Cancer Nanotechnology Training Center. These programs are funded by the National Science Foundation and the National Institutes of Health, respectively.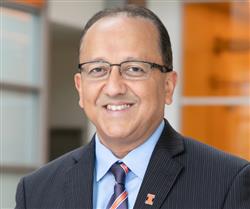 He is also co-director of the National Science Foundation Science and Technology Center with Illinois, MIT, Georgia Tech, and partner institutions on Emergent Behavior of Integrated Cellular Systems.
"The bioengineering department is at a crucial point in its history, and we have a once-in-a-lifetime opportunity to grow its size and influence. Rashid will be vital to seizing that opportunity and capitalizing on the significant support from the Grainger Engineering Breakthroughs Initiative," said Michael B. Bragg, interim dean of the College of Engineering.
The Grainger Engineering Breakthroughs Initiative began in January 2013 with $100 million in support from the Grainger Foundation. That gift will support major growth of Department of Bioengineering faculty and the renovation of Everitt Laboratory, which will serve as a new home for the department, as the ECE Department moves to its new building in 2014.
"The faculty and the students from Illinois' Bioengineering Department are second to none. I'm routinely amazed at my colleagues' research and dedication to quality and excellence," Bashir said. "This is a great time for bioengineering at Illinois. There are tremendous opportunities to address grand challenges in medicine and biology using engineering approaches—to have a profound impact on the society and the world at large."
Bashir's own research interests include BioMEMS, lab on a chip, nano-biotechnology, interfacing biology and engineering from molecular to tissue scale, and applications of semiconductor fabrication to biomedical engineering, all applied to solve biomedical problems. He is affiliated with the Beckman Institute for Advanced Science and Technology, the Institute for Genomic Biology and the Frederick Seitz Materials Research Lab at Illinois. He has been involved in two startup companies that have licensed his technologies.
Bashir is a Fellow of the American Association for Advancement of Science (AAAS, 2012), the American Institute of Medical and Biological Engineering (AIMBE, 2010), and the Institute of Electrical and Electronics Engineers (IEEE, 2009).