Cangellaris named dean of Engineering at Illinois
ECE Department Head Andreas C Cangellaris has been chosen to be the next dean of the College of Engineering.
Cangellaris will be interim dean designate until the U. of I. Board of Trustees meets July 24 in Chicago. Pending approval by the board, Cangellaris will then serve as interim dean before becoming dean when the academic year begins on Aug. 16.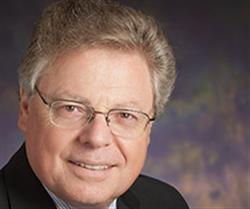 "Andreas Cangellaris has shown exemplary leadership as head of his department, in addition to exceptional achievements in education and research," said Ilesanmi Adesida, the vice chancellor for academic affairs and provost of the Urbana campus. "I am confident that the vision and drive that he will bring as dean will enhance the interdisciplinary scholarship and innovation that characterize the College of Engineering." Adesida, an ECE professor, was the dean of the College of Engineering from 2005 to 2012.

Cangellaris is broadly recognized for his research in applied and computational electromagnetics and its applications to the signal integrity of integrated electronic circuits and systems. His research has produced several design methods and computer tools that are used widely in the microelectronics industry. He has written or co-written more than 250 papers. He is affiliated with the Beckman Institute for Advanced Science and Technology and with the Coordinated Science Laboratory.

Cangellaris earned his doctorate in electrical engineering at the University of California, Berkeley in 1985. He joined the faculty at Illinois in 1997. He is the M.E. Van Valkenburg Professor in Electrical and Computer Engineering, and he has served as the head of the department since 2008. He was an Associate Provost Fellow on the Urbana campus from 2006 to 2008, a role in which he oversaw the review and revision of guidelines for recruitment, promotion and tenure; worked on campuswide interdisciplinary initiatives; and broadened campus outreach activities.

Cangellaris is a fellow of the Institute of Electrical and Electronics Engineers. He has received a Humboldt Foundation Research Award and the US Army Research Laboratory Director's Coin.