Allerton Conference celebrates 50th anniversary
From navigation systems to cellular networks, many breakthroughs during the past half-century have been presented, discussed and advanced at the Allerton Conference on Communication, Control, and Computing.
As the Allerton Conference marks its 50th anniversary this year—it's one of the longest-running conferences in the field of systems—organizers and attendees are commemorating its academic significance with a special five-day conference October 1-5.
Most of the events will be held at Allerton Park and Retreat Center, where the conference has met since 1963. However, the general public is invited to attend the October 1 kick-off event featuring the Golden Anniversary Jubilee Lecture presented by Lund University Professor Karl Johan Åström. The lecture, "Control: Past, Present and Future," will begin at 7 p.m. at the National Center for Supercomputing Applications building, 1205 W. Clark Street, with opening remarks given by Chancellor Phyllis Wise. A reception will follow the lecture.
"The breadth of the Conference has made it a leader in developments across disciplines," said ECE Professor and conference co-organizer Bruce Hajek. Hajek is also a professor in the Center for Advanced Study (CAS) and the Coordinated Science Laboratory (CSL) at Illinois. "The beautiful workshop-like atmosphere of the Allerton House has been a supportive environment for bright young researchers and young ideas."
Mac Van Valkenburg, hailed as one of the greatest engineering educators of the past century, founded the conference (then known as the Allerton Conference on Circuits and Systems) in 1963, together with fellow ECE Professor Jose (Joe) B. Cruz, Jr. Since then, advances first outlined at Allerton have impacted numerous technologies, such as cellular and deep space communications, industrial control and manufacturing systems, navigation systems, Internet congestion control, design methodology for circuits, and much more.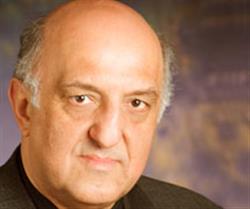 "They wanted to provide an opportunity for researchers to present their fresh new results in a dynamic growing field, and to bring researchers in different disciplines together, to cultivate cross-fertilization of ideas," said ECE Professor and co-organizer Tamer Başar, also a professor in CAS, CSL, and the Information Trust Institute. "This far-reaching vision of its founders is still the guiding light at Allerton 50 years later."
Attendees, who hail from across the U.S., as well as Europe, Asia, the Middle East, Australia and Canada, have presented about 7,000 papers over the course of the conference's history. Başar noted that many senior researchers in communications, control, computing, and circuits presented their first or second papers of their career at the conference as graduate students or young aspiring doctoral students.
"Most of those were early descriptions of exciting research, freshly developed over an intense period of summer research," Hajek said. "It's been exciting to see the impact that research presented at Allerton has had over the years."