Bernhard named associate dean for research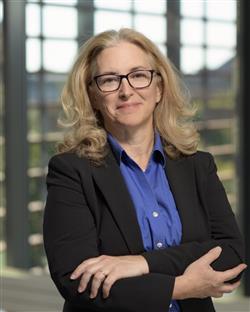 ECE Professor Jennifer Truman Bernhard has been named associate dean for research in the College of Engineering.
The Office of the Associate Dean for Research is responsible for proactively increasing the visibility and broadening of research collaborations with state, federal, and international agencies, as well as industry. Bernhard's appointment is effective August 16, 2012, subject to the approval of the Board of Trustees.
"Throughout her career, Jennifer Bernhard has collaborated with colleagues in many different departments across the College as well as colleagues in government and industry," explained Ilesanma Adesida, dean of the College of Engineering. "I am confident that her broad research expertise and experience working with colleagues at Illinois and nationally provide her the background and abilities to excel in this new role."
After graduating with BS degree in electrical engineering from Cornell University, Bernhard earned her MS and PhD in electrical engineering from Duke University. She joined the ECE faculty in 1999. She is also a research professor in the Coordinated Science Laboratory and an affiliate faculty member of the Information Trust Institute.
Bernhard's research addresses applications-oriented electromagnetic problems with an emphasis on theoretical analysis and experimental investigation. Her research group focuses on two areas: electromagnetics for wireless communication and reconfigurable active and passive antennas.
She was named an IEEE Fellow in 2011. At Illinois, she has been twice recognized as a Willett Faculty Scholar, and received the Xerox Award for Faculty Research in 2006 and the Stanley H. Pierce Faculty Award in 2012. She also served as president of the IEEE Antennas and Propagation Society in 2008, and as a member of the Defense Science Study Group in 2008-2009. More recently, she completed service on the President's Council of Advisors on Science and Technology (PCAST) Working Group on Realizing the Full Potential of Government-Held Spectrum to Spur Economic Growth.
Her excellence in teaching is reflected in her numerous awards, including her repeated inclusion in the University's annual List of Teachers Ranked Excellent by Their Students. For her exceptional service and effectiveness as an adviser, Bernhard has been recognized by the College of Engineering with the Accenture Engineering Council Award for Excellence in Advising. She has also received the Ronald W. Pratt Faculty Outstanding Teaching Award in the ECE Department, the Anderson Consulting Award for Excellence in Advising, and the Collins Scholar Award.