Mitra receives Air Force Young Investigator Award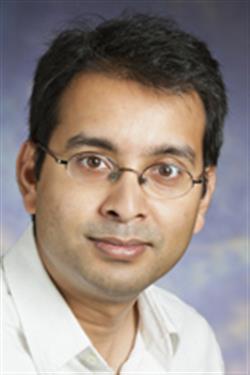 ECE Assistant Professor Sayan Mitra has received a prestigious Young Investigator Award from the Air Force Office of Scientific Research (AFOSR). Mitra's winning proposal was entitled "Verification Engines for Hybrid Networks."
His planned research aims to ensure the trustworthiness of complex distributed control systems, such as the onboard software that coordinates flight trajectories of groups of aircraft or unmanned aerial vehicles (UAVs) in order to guarantee that they remain a safe distance apart from each other.
Such "cyber-physical systems"—meaning systems that involve close coordination among computers that interact with the outside world by means of sensors and actuators—are challenging to verify, because of fundamental differences between the abstractions used to understand computational systems and those that describe physical systems.
For example, abstractions for computer programs are typically discrete and nondeterministic, while those for differential equations, which are used to model physical processes, are deterministic and continuous.
Mitra, a researcher in the Information Trust Institute and the Coordinated Science Lab, will use this grant to develop Verification Engines for Hybrid Networks, a suite of theoretical and computational tools that will remedy some of those incompatibilities and enable creation of meaningful abstractions for automated verification.
According to the AFOSR, the Young Investigator Research Program is designed to foster creative basic research by awarding research grants to gifted young scientists and engineers who have received their PhD degrees within the last five years and "show exceptional ability and promise for conducting basic research." This year, the Young Investigator Research Program will award approximately $18 million to 48 scientists and engineers across the United States.
Mitra obtained his PhD from the Massachusetts Institute of Technology in 2007 and joined the ECE ILLINOIS faculty in 2008. His broader research interests are in the areas of hybrid, distributed, and real-time systems, and design and analysis of software for embedded systems.