The Tesla Roadster stops by Urbana-Champaign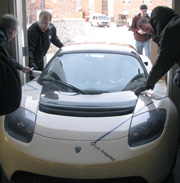 On the afternoon of January 5, representatives from Tesla Motors brought a Tesla Roadster to Everitt Lab and the College of Engineering. The Roadster was on a cross-country trip that began December 17 in Los Angeles and will end in Detroit on January 8. In all, the car will have gone over 2,700 miles.
Driving the car were Ben Kanner, inside sales representative for Tesla, and Hank Bonutti, senior engineering manager. They had driven the car for the previous two days from Springfield, Missouri, and Champaign was their last stop before handing the keys to another team. By the end of the road trip, 16 Tesla employees will have taken a turn at driving the car.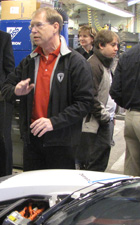 Tesla Motors was co-founded by ECE alumnus Martin Eberhard (BSCompE '83, MSEE '84) and is a new American car company that is trying to make electric cars universal. The Roadster often gathers attention because it is still a rare site on the road. Bonutti explained, "There have been 900 of these [Roadsters] built and sold in the U.S. and about 100 in Europe, so about a thousand vehicles so far."
The Roadster was housed briefly in the Everitt Lab Machine Shop as arrangements were made for charging the car overnight. The car was eventually moved to the Engineering Student Project Lab near Loomis Laboratory for its overnight stay.
Among the goals of the trip, Kanner said, was "to show that driving an electric vehicle doesn't have to be as limiting as people seem to think it is."
Though classes were not yet in session at the University, the car still drew a crowd. ECE graduate students as well as members of the local electric vehicle club spent more than an hour in some bitter cold weather to look at the vehicle and talk with the drivers from Tesla.
The car will be featured at the North American International Auto Show, which runs January 11-24 in Detroit. "The car is going to drive onto the showroom floor as is" explained Kanner. "It's going to show the nastiness of the road and the snow that we hit as we drove across [the country]."
More information on the Tesla Roadster's trip across the country can be found at Web site Tesla Motors for the Roadster Road Trip.