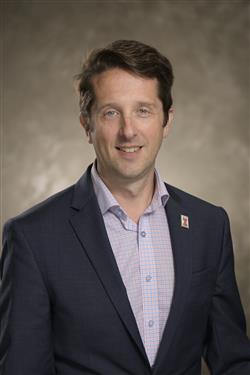 Q: What is your area of expertise?
A: My research area is in remote sensing of the Earth's upper atmosphere and ionosphere, which is the ionized portion of the atmosphere above 100 km and represents the boundary with space. I develop and field instruments around the world to make measurements that are used to study disturbances and irregularities in these regions, a field that has come to be known as space weather. This area has become important in recent years as space weather can affect many technological systems our society has become reliant on, such as satellite navigation and communication systems and the power grid.
Q: Give me a brief synopsis of your education and career.
A: I received both my BS in 1999 and PhD in 2003 from Cornell University. I spent two years, 2002 to 2004, as a post-doctoral research associate in the Thermosphere-Ionosphere Research Applications group at the Naval Research Laboratory in Washington, DC. I was pleased to join Illinois as an assistant professor in November 2004. I was recently promoted to associate professor in August 2010.
Q: You have been at Illinois since 2004. What do you enjoy most about being here?
A: One of the great things about Illinois in general, and ECE ILLINOIS in particular, is the caliber and quality of both the students and colleagues that I interact with on a daily basis. That our faculty are leaders in so many diverse areas means that you can always find an expert to work with. People are also very easy to get along with and collegial.
Q: Why did you become an engineer?
A: Even as a young child, my parents tell me I had a fascination with electricity and enjoyed playing with a 50-in-1 engineering set, so the writing was on the wall from early on. In school, I enjoyed math and science most and when looking at colleges, I considered several different areas of engineering. I started out at Cornell as an applied and engineering physics major, but switched to electrical engineering in my sophomore year, as I thought it was a better fit for my interests.
Q: How did you become interested in research aspects of remote sensing and what keeps you interested?
A: As an undergraduate, my concentration area was in signal and image processing. In my junior year, I was taking the honors seminar in which faculty gave lectures on their research. The one that caught my interest was focused on new images of structures in the ionosphere that were being captured over the Caribbean. The professor giving the lecture—my eventual PhD adviser, Michael C. Kelley—was looking for an undergraduate student to look through these images and perform some analysis. I leapt at the opportunity and found myself down at the Arecibo Observatory in Puerto Rico a few months later running some experiments in conjunction with the largest radio telescope in the world.
In a sense, that first experience encapsulates why I remain interested in this research area. There are interesting problems yet to be solved, I get to work with really cool equipment, and I get to travel the world performing experiments. I like to think of the world as my laboratory, which presents some difficulties, not the least of which it is very hard to run a controlled experiment. We essentially have to work with what Mother Nature gives us.
Q: Tell me about a research accomplishment you're proud of.
A: I'm most proud of the work I have done combining a variety of data sets from different types of observing modalities to study irregularities in the ionosphere. We've shown that by combining observations from a lot of different types of sensing techniques—imaging, interferometry, active and passive radio/radar, etc.—you can learn much more than you can from any individual one. Each technique reveals something unique about the physics.
Recently, I spent considerable time getting a project running in northeastern Brazil. Along with several collaborators, we've brought together a host of complementary equipment—including GPS receivers, imaging systems, and interferometers—to make measurements that will hopefully allow us to study the conditions that are conducive to the growth of these irregularities. It is very rewarding to see data flow in from these remote stations all over the world.
Q: What do you enjoy most about teaching?
A: I enjoy interacting with the students and the challenge of finding different, accessible ways to convey information. I've found that I understand the material I teach—material I have studied for many years—much better now that I have had to explain it to others seeing it for the first time. All students have different preferred methods of learning, and I find it rewarding to think about ideas from different perspectives so I can present them in way that are conducive to the variety of learning styles in the classroom. I especially enjoy working with students in the laboratory course I teach, as you really have a chance to work with them one-on-one. It's great to watch students experience that moment when a difficult concept really clicks.
Q: What made you want to go into teaching?
A: I come from a long line of professors in my family, so teaching was always somewhere in the back of my mind. As an undergraduate, I often found myself taking on tutoring roles in my study groups, which was rewarding. I also had a less-than-stellar industry experience during a co-op program in my undergraduate career, and decided in my junior year that I would focus my career aspirations on becoming a professor.
Q: What role do students play in your research?
A: I work with both undergraduate students (through PURE and ECE 397 projects) as well as graduate students. They are involved in all aspects of my research, from traveling to the fields sites we operate—currently in Brazil, Chile, Bonaire, Trinidad, Hawaii, and New Mexico—to collect data and maintain equipment, to developing new methods to analyze the data collected, to writing and publishing the results. As a faculty member, you have many roles to play, so having a healthy and excellent group of student researchers is necessary for a successful research program.
Q: Over the years, you have received several teaching and research awards. Which one is most meaningful to you? Why?
A: On the teaching side, I was awarded the Ronald W. Pratt Faculty Outstanding Teaching Award given out by the ECE Department in 2009. This award recognized the work I've done in several laboratory classes. I was honored to receive this award, as you have to be nominated by students and then receive letters of support from colleagues. These are the group of people whose opinions mean the most to me in my professional life.
On the research side, I received the Zeldovich Medal from the international Committee on Space Research (COSPAR) and the Russian Academy of Sciences in 2008, which is given to a young scientist researching in the space sciences. This award recognized the experimental work that I have dedicated myself to in my research program. It was very satisfying to have my research recognized in this way and served to motivate me to continue on.
Q: What are you focused on today?
A: Being an experimentalist, I am always developing new experiments to probe the physics I am interested in unraveling. Because my work requires collaboration in the international community, I have been involved in several programs to enhance the infrastructure for studying the upper atmosphere in developing nations. Last summer I was invited to give a talk at an UN-sponsored workshop in Zambia focused on increasing the amount of instrumentation in Africa. This was an excellent opportunity to meet new potential collaborators. I am currently working on trying to set up a field site in Morocco, a collaboration that began at one of these UN-sponsored workshops.
Q: What does the future hold?
A: I think as a society we are becoming more aware and interested in our surrounding environment. Sensing systems—whether making measurements of "traditional" environmental parameters such as temperatures, winds and atmospheric constituents in the lower atmosphere or more "exotic" parameters relating to the state of the near-space environment—are drastically increasing in number. This wealth of data should allow us not only to make better forecasts useful to predicting a variety of phenomena but also to come to a greater understanding of the impact that we have on our planet. However, the amount of available data is tremendous, and will only increase in the future. New techniques for more efficient and imaginative data mining and processing need to be developed to complement increasing computational speeds in order to make use of all of the available information.