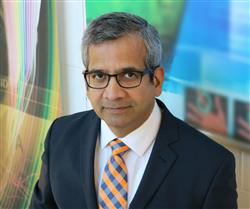 Q: What is your area of expertise?
A: Communications. More specifically, I work on detection and estimation theory and information theory, and their applications in wireless communications and sensor networks.
Q: Give me a brief synopsis of your education and career.
A: I obtained my bachelor's degree from the Indian Institute of Technology (IIT), Bombay in 1985. I came to the United States in 1985, and received my master's from Carnegie Mellon University in 1987. I obtained my PhD from the University of Illinois in 1992. All of my degrees were in electrical engineering. I taught (a course on detection and estimation) at the University of Illinois in the spring of 1992 while I was a graduate student. After finishing my PhD, I was a postdoctoral fellow at Harvard University for a year, an assistant professor at the City College of New York for a year, a visiting professor at Rice University for two years, and an assistant professor at Cornell University for four years. In December 1999, I was contacted by Illinois to see if I was interested in moving here. I joined Illinois as a tenured associate professor in Fall 2000.
Q: You were an assistant professor in the ECE department at Cornell University for four years. What made you want to come to U of I?
A: It was actually not an easy decision because Illinois and Cornell are similar universities and both have excellent ECE departments. What tipped the scale were my memories from being a graduate student at Illinois. This communications group at Illinois is fantastic. I have great colleagues and great students.
Q: Why did you become an engineer?
A: When I was in high school, we had a technical training program in the evenings where we would spend about three hours twice a week on learning how to be an engineer. We learned things like electrical wiring, building electronic circuits, using a lathe, and even woodwork. It was a lot of fun, and it awakened an interest in engineering for me.
Q: What sparked your interest in communications?
A: I was always interested in communications. One of the first things I built in the technical training program was a transistor radio from scratch. I later became a Ham radio operator, and sent messages to people around the world using Morse code. The instructor for my first communications course at IIT, Professor Sahasrabuddhe, was a superb teacher, and he showed us how to analyze communication systems with accurate mathematical models. All of this made communications my first choice when I applied to graduate school.
Q: Tell me about a research accomplishment you're proud of.
A: When I was a graduate student at Illinois, one of my classmates, Carl Baum, and I took a Sequential Analysis course taught by Professor Adam Martinsek in the Statistics Department. It was in this class that we learned about a thirty-year-old open problem, sequential multihypothesis testing. We saw potential engineering applications if this problem was solved and we decided to work on it. After a few months of hard work we came up with an asymptotically optimal solution to the problem which we sent for publication to the IEEE Transactions on Information Theory. This was completely unrelated to our theses and we were lucky to have advisors who supported us in this effort. The paper eventually won the IEEE Browder J. Thompson award, given to the best paper by authors under the age of 30 in all IEEE publications.
Q: Over the years, you have received a variety of awards for your research and teaching. Which one is most meaningful to you? Why?
A: The one that I'm most proud of is the Presidential Early Career Award for Scientists and Engineers (PECASE), which I received from the White House in 1999. This was for research and education in wireless communications. This is one of the highest honors given to starting researchers in the United States.
Q: What do you enjoy most about teaching?
A: I love the interaction with students both in the classroom and in one-on-one discussions after class or in office hours. I also believe that the only way to learn a subject properly is to teach it.
Q: What role do students play in your research?
A: Students are an integral part of my research program. I like to be involved closely in all of my students' research, but I also try to make sure that they develop to be independent researchers. Ideally I know more than my students about the topics of their research when they start out, but by the time they finish, they know more than me and are teaching me.

Q: You have been involved with a number of service activities. Which role was most important or meaningful to you? Why?
A: I served as a program manager at the National Science Foundation for two years from 2003 to 2005. I was in charge of the Communications Research program and was responsible for funding decisions in that area. It was a great experience. I think it's something all faculty members should consider doing at some point in their careers. It gave me a bird's eye view of all the research areas in communication, which helped me focus my own research efforts. It also helped me understand the funding process at NSF and other funding agencies in Washington, D.C.
Q: What are you focused on today?
A: I divide my time equally between research problems in wireless communications and sensor networks. In the wireless area, my students and I are studying multiantenna (MIMO) communication with feedback, interference management, and cognitive radio. In sensor networks, distributed signal processing, quickest change detection, and energy efficient inference.
Q: What technology that's currently under development are you most anxious or excited to see completed?
A: One technology that I'd like to see pushed forward is sensor networks. Sensor networks allow us to communicate with the environment and the physical world in ways we have not been able to do before, and there are many potential applications of this technology. One example is monitoring critical infrastructures such as bridges using sensor networks. The recent bridge crash in Minnesota might have been avoidable if we'd had a sensor network in place to monitor it.
Q: What does the future hold?
A: It's hard to predict these things, but there is a general consensus that we are witnessing a rapid evolution to a highly networked world in which sensing and actuation are converging with communication and computing. For example, our cell phones today come with a slew of sensors that could potentially be networked and controlled to collect useful data from the environment, in addition to providing point-to-point communication. How to design and analyze these new complex networks is a challenge that is being addressed by a number of researchers around the world, including our excellent faculty and students at Illinois.