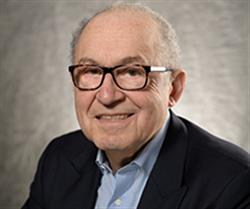 Q: What is your area of expertise?
A: I do basically power system operations, planning, and economics. I'm very much into the economic aspects of power systems energy. Everything I do usually has dollar values.
Q: Give me a brief synopsis of your education and career.
A: I did my undergraduate degree in electrical engineering at McGill University in Montreal, Canada. I did my master's and PhD at the University of California, Berkeley in electrical engineering and computer science. Then I went to work in industry for nearly 19 years for a company called Pacific Gas and Electric, where I did various engineering, policy and management positions. I came here 16 years ago in August 1993. I've had one year of sabbatical. Other than that, I've stuck around here.
Q: You've been at Illinois since 1993. What do you enjoy most about being here?
A: I like the atmosphere of the department. I like that this is really one of the top ECE departments in the world. I enjoy the fact that we have a lot of collaboration among the colleagues. I am pleased that we can get some good students here. We have a fantastic department, tremendous facilities, and top-notch experts. In many ways, we're better than many more departments that may be better known.
Q: Why did you become an engineer?
A: I thought it's a nice way to contribute to society by improving the way certain systems run. I've never been that much interested in components as [I have] in the way the components interact within the system. The systems engineering approach can bring about huge benefits by bringing increased efficiency into processes.
Q: Why did you become interested in your specific field?
A: I became interested because the world needs energy. It's probably the most primary need in the world because a well-functioning economy depends intensely on the availability of economically cost-effective and reliable energy. To the extent that I could understand some part of the energy process--the electrical part--made me want to improve the societal system. Many of my colleagues I went to school with ended up in the defense sector, and they could never talk about their work. Because this is a civil system, it was really nice that I could always discuss the kind of work I'm doing. The openness and the usefulness of the field are the two driving factors.
Q: Tell me about a research accomplishment you're proud of.
A: I introduced the notion of research on electricity markets when I came to Illinois. That was a field, at that point, in its infancy. I worked with students, and we wrote some of the first papers in terms of application of concepts of electricity markets. The work we have done in terms of market design and the linkage of market design to the security of the system are some important accomplishments. In other areas, I've developed a lot of computational tools for electricity.
At one point in my career, I won a major prize. This was to develop a scheduling system for how we run the river systems so we could use them as efficiently as possible for electricity production. That saved my old company, Pacific Gas and Electric, something like $45 million a year at the time I did it. That was a very nice accomplishment because that $45 million repeats itself every year and grows. They're still using that tool in terms of scheduling river systems.
Q: What do you like best about teaching?
A: If I have a good class that enjoys my jokes, I like that. I like the notion of transferring my industrial experience to the students and teaching concepts so that they can think in more analytic terms in approaching problems. When I combine that with my industrial experience, it comes out to be a good way to transfer this knowledge.
Q: What role do students play in your research?
A: I have both graduate students and undergraduate students who work with me. Because of the growing prominence of energy in the last couple years, I've seen much more interest on the part of undergraduate students to be involved in research. One student is working to develop a communications system for the battery vehicles, which we want to integrate into the smart grid. That's kind of exciting because we're transferring technology from the wireless world for electricity uses. I work very closely with graduate students. I'm careful in terms of how they present their ideas, and I'm careful in terms of how they explain their ideas. I would say that my students come out very well trained, ready for the workforce, and with very strong presentation skills. They're much better at conveying ideas in easy to understand terms after they have been with me a number of years.
Q: Over the years, you have received several service awards. Which one is most meaningful to you? Why?
A: Every time you get an award it's nice. Best paper awards are always welcome because I strive to be very clear in presenting ideas, so it's nice to be recognized. Getting a paper accepted is an award in itself because it's so nice to feel that your peers think the same way you do about the paper's quality. The award that had the biggest notoriety was the Franz Edelman Management Science Achievement Award of the Institute of Management Sciences, in 1985 that I received when I was at Pacific Gas and Electric. That had the biggest splash because once we got that award, the company got very hyped up about it.
Q: What technology that's under development are you most anxious or excited to see completed?
A: The new buzzword is the smart grid. Everything we've been doing since I'm in this field has always been for making the grid smarter. But now, the name has gotten its own currency. Everybody down from President Obama is talking about the smart grid. There's part of the stimulus package associated with it. No two people necessarily have the same definition of the smart grid, but everybody thinks they know what it is. At this point, I think we're trying to write some of our own proposals in that area. One of the things we're doing as a group is we would like to have the new ECE building smart grid compatible and use of some of the newest technologies in terms of making that a very energy-efficient building. It's going to have renewable resource connections plus a lot of efficiency features.
Q: You said no two people have the same definition of the smart grid. What's yours?
A: The application of advances in information communications and control technologies, so as to make the utilization of electricity more efficient. But there are provisions pertaining to the smart grid in the 2007 Energy Independence and Security Act. That act has its own specific language.
Q: What else do you hope to accomplish with your research?
A: I'm always trying to give a better analytical underpinning to the area of power system analysis and economics and develop computational tools. Those problems are not ceasing, we will always have work to do. We always see new applications and changes in the law. I'm interested, for example, to see how my analysis and those tools can help better assess the impact of cleaner technologies. I'm also interested in how to integrate renewable energy use into the system. A big problem there is that wind blows when it wants to blow, the sun shines when it wants to shine. If we have those renewable energy resources using wind or using solar energy, we have to make sure we can integrate them effectively into the system. When the wind doesn't blow, we still need some generation, so we need to have backup units. This integration of renewable resources, I think it's going to keep us busy for quite a few years.
Q: What does the future hold?
A: A lot of uncertainty, a lot of challenges. I just don't see that this country could continue to be a world leader in terms of the U.S. economy without a secure and reliable energy supply. Everything that we do here is really aimed at ensuring that kind of future is going to be very reliable. Much of the work that we do here has to be focused on the reliability aspect. We engineers have a key responsibility and major role to play to ensure that the nation and the world can enjoy a sustainable energy future.