New ECE building design approved by Board of Trustees
ECE News
Tom Moone, ECE ILLINOIS
3/15/2010
Story Highlights
Design for new ECE building was approved by the Board of Trustees at its March 10 meeting.
The building is designed to be extremely energy efficient.
The next steps will be to prepare detailed construction documents and blueprints and then to solicit bids.
The University of Illinois Board of Trustees approved the design of the new ECE building at its March 10 meeting at the Illinois Conference Center in Champaign.

David King of SmithGroup, the architectural firm that is designing the new building, presented an overview of the new building. The structure will be located southwest of the Beckman Institute, just north of the Micro and Nanotechnology Lab. The building will be a tiered structure, with the highest portion at five stories.
The new ECE building is intended to be extremely energy efficient. As David King, lead architect on the project, told the Board, "This building from day one has been described as a high-performance structure, and energy has been the number one deciding factor as we've gone through our design work."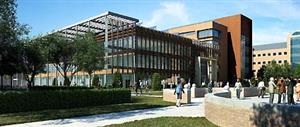 Following the architect presentation to the Board, University of Illinois President Stanley O. Ikenberry said, "This is a very important building for an extremely important program and department. And that aspect alone means that it deserves a lot of attention."
ECE Department Head Andreas C Cangellaris said, "The building will serve as the renewal of Illinois's promise to continue its role at the epicenter of new waves of technological and economic progress and groundbreaking innovation."
Engineering Dean Ilesanmi Adesida referred to the approval as the "end of the beginning." ECE Professor Philip T Krein, who chairs the department's New Building Committee agreed, and pointed out that "we have a project, a formal construction project approved by the state and by the university. Now we start the nuts and bolts work to bring this visionary design to reality."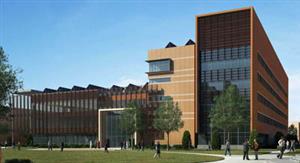 The Board approval is an important milestone on the timeline towards the completion of the building. Currently, the building continues to move forward according to schedule. Between now and August detailed construction documents and blueprints will be prepared with a plan to release bids for construction in September, 2010, assuming that the necessary funding commitments are in place.
Some aspects (such as whether the design, combined with solar resources, can reach a lofty goal of zero net energy) can now be analyzed in detail. And attention can focus more fully on gathering the funds to complete the building, with the State of Illinois committed to 50% of the total $95 million project plan.
To find out more about this building project or to donate, please go to the Web site for the ECE ILLINOIS building campaign.