ECE alums crowdfunding the first artificially intelligent cat toy
ECE News
Meg Dickinson, ECE ILLINOIS
11/12/2014
Story Highlights
Three ECE ILLINOIS alumni are on their way to crowdfunding the first artificially intelligent cat toy.
They've created a grassroots Kickstarter campaign that shows off both their personalities and their hopes for the toy, which is called Mousr.
Mousr has a 360-degree camera and sensors to detect when the toy has been caught or has hit an obstacle.
Three ECE ILLINOIS alumni are on their way to crowdfunding the first artificially intelligent cat toy.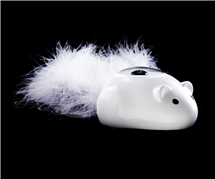 Dave Cohen (MSEE '13), Michael Friedman (MSEE '13), and David Jun (BSEE '08, MSEE '10, PhD '14) have created Mousr, a robotic toy for cats that's taken the Internet by storm. The team's Kickstarter page raised 30 percent of its $100,000 goal in the first three days after launching.
They've also worked with James Pikul, an alumnus of Illinois' Department of Mechanical Science and Engineering; Dan Widing, an alumnus of Materials Science and Engineering; and Erin Yerges. Cohen and Friedman are also pursuing PhDs at ECE ILLINOIS.
The concept: Real prey doesn't move randomly - it reacts. Mousr reacts to cats, using a 360-degree camera and sensors to detect when the toy has been caught or has hit an obstacle. The toy's owners will also be able to control it with a smartphone app.
The toy will understand its environment and learns cats' behavior as they play. The toy then adapts to match that play style. The goal: to make the most engaging toy on the market that allows cats to hunt naturally.
The team members, who formed a company called Petronics, decided to take an authentic, honest approach to their Kickstarter campaign.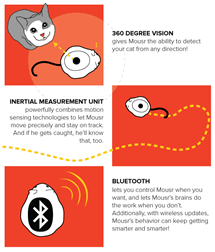 "We wanted it to show our personality," Friedman said. "We tried to make it really personal and I think that comes through."
They're also not pretending the Mousr is done - some Kickstarter funders will be beta testing the toy, and will be engaged in the development process.
The team members started working on the project earlier this year, and have spent the last three months in China honing a prototype. They're working with HAXLR8R, a program based in China that helps start-up hardware companies move forward.
"It's been quite incredible," Jun said. "When they say it's an accelerator, they really mean it."
HAXLR8R has given the team a crash-course in prototyping hardware for manufacturing, and because members have been living in Shenzhen, what they call "the electronics capital of the world," they've had excellent access to both buy and customize parts for their project.
The idea has been about two years in the making. Cohen was working on a proof-of-concept sensor management system where the goal was to keep the power consumption of a device low. The idea was to create a device that could intelligently use coarse, low-power motion sensor data in order to dictate when to collect more informative, power-hungry camera data. In this way, the camera is only run when it is needed most.
Cohen decided to use the device in his house to monitor his cat while he was gone, and then had more motion-sensor ideas related to pets. Mousr resulted.
The group toyed with the idea of entering the Technology Entrepreneur Center's Cozad New Venture Competition this spring, Cohen said. But at the last minute, he had last-minute doubts about whether their idea was worth entering.
"I ran into (TEC Director and Professor)
Andrew Singer
and voiced my concerns," Cohen said, "and he said, 'Why not enter? At worst, you'll get feedback.' Those were the words that made us enter."
They won Best Cozad Elevator Pitch, and then decided to apply to HAXLR8R.
"It's a driving force to everything that's happened since," Cohen said.
Jun said his educational experience at ECE ILLINOIS, starting as an undergraduate, helped him develop the skills he's needed while developing Mousr, starting with ECE 110, Introduction to ECE, continuing through ECE 395, Advanced Digital Projects, where he first encountered microcontrollers and robotics, and through ECE 420, Digital Signal Processing.
"Those classes really helped me," Jun said. "I used a lot of the things I learned in those classes in our product."
And, he believes his time in graduate school in ECE ILLINOIS taught him to solve problems quickly and learn the skills needed to finish a project. Those experiences came in handy during the group's time in China, Jun said.
The group plans to continue to spend time in China as Petronics moves into the manufacturing process. Kickstarter backers will receive their Mousrs next fall, and the group hopes to be able to sell the toy online by the holiday season next year.
Team members say they're hoping students take note of an ongoing trend in developing hardware startups.
"Entrepreneurship has never been easier in the hardware realm," Friedman said. "If you have a dream, it's really possible. Join up with your friends, build prototypes and get them out there."