Bashir's research highlighted with six journal cover articles
ECE News
Susan Kantor, ECE ILLINOIS
2/8/2010
Story Highlights
Prof. Rashid Bashir and his research group have authored six journal cover articles in 2009 that highlight technologies used for chip-based devices for diagnostics.
These technologies would move diagnostic tests, for cancer or HIV/AIDS for example, from the lab to the home.
These tests should also be at a low cost, making them more accessible to a greater number of people.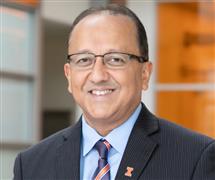 At-home diagnostic tests--things like cholesterol tests, pregnancy tests and blood-glucose monitors--are readily available at pharmacies around the world. But ECE and Bioengineering Professor Rashid Bashir sees the possibility for a wider variety for at-home diagnostic tests, moving technologies only in labs to be available at home.
Bashir, director of the Micro and Nanotechology Laboratory, and his group have authored many papers toward this goal. Six of these were highlighted as journal cover articles in 2009. Bashir and his research team are working to create chip-based devices for diagnostics. Each cover highlights different technologies inching closer to bring these technologies to reality.
"We want to make the devices cheap, sensitive, and for a one-time use," Bashir said. "We want to lower the cost of detection."
Because the technology would be on a chip, it would have the potential to be mass produced cheaply. Bashir and his research group have been working on detecting cancer markers for breast cancer. From only one drop of body fluid, one would be able to tell the progression of breast cancer. This project is in the second year of a five-year project funded by the National Institutes of Health and Intel.
In addition to using the technology for monitoring cancer, the group is also researching how to use it to improve global health."We're working to make point-of-care sensors for the developing world," Bashir said.
A person infected with HIV has a lower count of CD4+ white blood cells. A chip-based technology would be able to detect the concentration of these cells and help diagnose HIV/AIDS.
An earlier version of this technology, co-developed with colleagues at Harvard Medical School, has been licensed to a company, Daktari Inc., which is now in the process of commercializing this technology.
"This would be the next generation of that technology," Bashir said.
Bashir said he expects the cost for one test to be around $10, much less than a trip to a lab and more accessible to a greater number of people.
The research group is also trying to detect DNA molecules for sequencing. This would help to understand the cause of diseases, as the root of all diseases is linked to the DNA sequence.
And this research isn't just for medical applications. It can also be used for environmental monitoring, such as testing the quality of drinking water, and for monitoring food-borne pathogens.
Bashir credits his students and post-docs for the number of journal covers this past year.
"It really reflects on the accomplishments of the students and post docs, and all the great facilities on campus that have helped to move this research forward," he said.
More on the journal articles:

"Highly Sensitive, Mechanically Stable Nanopore Sensors for DNA Analysis"
Advanced Materials
This paper discusses a new solid-state nanopore sensor for the detection of short strands of DNA. This process is much more robust and simple.
"Dielectrophoresis-based cell manipulation using electrodes on a reusable printed circuit board"
Lab on a Chip
There is a need to place cells in a two-dimensional pattern of a chip, and electric fields on cells are used to pattern them. This paper discusses the use of dielectrophoresis to manipulate and position cells.

"Localized heating on silicon field effect transistors: Device fabrication and temperature measurements in fluid"
Lab on a Chip
Silicon transistor-heaters can be used as field effect sensors, as well as temperature controllers. By controlling the temperature, various bio-chemical reactions are enabled.
"Dielectrophoretic Technique for Measurement of Chemical and Biological Interactions"
Analytical Chemistry
In studying the interactions between molecules, electric fields are used to measure the strength of the interaction between molecules bound to the surface and molecules bound to beads. This technique can be used to determine the force between molecules.
"A robust electrical microcytometer with 3-dimensional hydrodynamic focusing"
Lab on a Chip
This paper has applications in global health. This technology would be able to detect the number of CD4+ white blood cells, which are necessary in diagnosing a person who has HIV/AIDS.
"Vapor-phase deposition of Monofunctional Alkoxysilanes for Sub-Nanometer-Level Biointerfacing on Silicon Oxide Surfaces"
Advanced Functional Materials
This paper discusses a process that deposits a very uniform layer of molecules that attach to a surface when creating biosensors. This process allows the molecules to attach very easily and robustly.

Bashir was also recently chosen as an IEEE Electron Devices Society (EDS) Distinguished Lecturer for 2010. He was elected an IEEE Fellow in 2009 and is recognized further as an expert in his field as a distinguished lecturer.
In his two-year term as a distinguished lecturer, Bashir will be available to present lectures to EDS chapters around the world. Bashir would also like to acknowledge the ITG group in the Beckman Institute that developed the actual cover images."