Cunningham part of team working to improve cancer detection technologies
ECE News
Charlie Johnson, ECE ILLINOIS
11/9/2009
Story Highlights
NIH has awarded ECE Prof. Brian Cunningham and Dr. Richard Zangar of the Pacific Northwest National Laboratory.
Grant will aid in development of new method of diagnosing small cancerous tumors.
Photonic crystals will be used to increase sensitivity of microarrays in detecting tumors.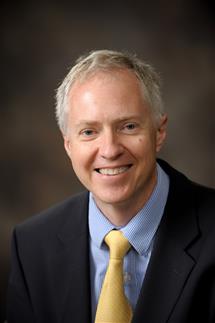 The National Institutes of Health (NIH) have awarded ECE Associate Professor Brian T Cunningham and Dr. Richard Zangar of the Pacific Northwest National Laboratory a grant to fund the development of diagnostics that can detect the presence of cancer in the human blood stream. The two-year grant, which they received as part of the American Recovery and Reinvestment Act (ARRA) or more commonly known as the "stimulus package," will aid the researchers in developing a new method of diagnosing the presence of small cancerous tumors through analysis of a patient's blood.
"The ARRA program offered an opportunity for investigators with an existing NIH grant to apply for supplementary funding," said Cunningham. "When I saw the opportunity for obtaining supplementary funds, I contacted Dr. Zangar and asked if he would be interested in collaborating on a proposal. Fewer than 10% of applications receive funding. The grants are very competitive."
Cancerous cells within the body produce a specific set of proteins that enter the bloodstream, but those proteins are diluted to very low concentrations as they are distributed throughout the body. Such proteins are known as "biomarkers" because their presence "marks" the presence of a developing tumor somewhere inside the body. A single biomarker may not conclusively indicate a cancer diagnosis, but simultaneous identification of multiple biomarkers is a good indicator that a patient may have a developing tumor.
Dr. Zangar is leading a group of microbiologists and chemists in the development of chips that contain arrays of antibodies that bind with specific biomarkers called "protein microarrays." Professor Cunningham will work on developing optical surfaces known as "photonic crystals" that can greatly increase the sensitivity of these microarrays by resonating with specific wavelengths of light. The photonic crystals have a resonance at the same wavelength of light as a laser that is used to excite fluorescent dyes, which can be attached to specific molecules in order to detect their presence. When the laser hits these fluorescent dyes, it generates light at a larger wavelength alerting researchers to the presence of a biomarker.
"The goal of the project is to combine Pacific Northwest Laboratory's expertise in protein microarrays with our expertise with photonic crystal fluorescence enhancement," said Cunningham. "By detecting biomarkers at lower concentrations, the presence of hidden tumors can be detected at an early stage, while the cancer is still treatable."
The project, which begins this month, will run for two years, after which Cunningham and Zangar hope to have fully developed the photonic crystal technology and shown proof of principle at diagnostically relevant concentrations. After that, the next step will be a clinical study of the technology by attempting to detect breast cancer markers in both laboratory animals and human subjects. In the long run, the team hopes that their diagnostic method could be implemented as an alternative to more invasive methods of cancer diagnosis that aren't able to catch tumors in such early stages.
Said Dr. Zangar, "The central goal of Cunningham's laboratory, to improve assay sensitivity, is of great importance since success will mean an improved ability to detect cancer in its earliest stages, when the disease is more readily cured and treatment is generally less harsh and costly."