PURE research going strong in its second semester
ECE News
Charlie Johnson, ECE ILLINOIS
12/1/2008
Story Highlights
Promoting Undergraduate Research in ECE (PURE) is a program designed to create research opportunities for undergraduates.
The program was started by an ECE undergrad, Kuang Xu, and is currently in its second year.
PURE pairs undergrads with graduate mentors who provide guidance to the projects which are presented at the end of semester PURE symposium.
When Kuang Xu looked around and didn't see enough research opportunities for underclassmen, he decided to create some.
Xu, an ECE senior, is one of the creators of the program Promoting Undergraduate Research in ECE (PURE). The program's aim is to create research opportunities for undergraduates, in particular freshman and sophomores. While many professors prefer undergraduate research assistants to have more advanced coursework before assisting them in the lab, PURE is trying to give underclassmen the opportunity to gain research expertise before tackling more difficult projects.
"If it is so difficult to get any research when you are a freshman or sophomore, when undergrads get to be juniors and seniors, how will they know what they want to do?" said Xu.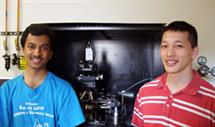 PURE pairs undergraduates with graduate student mentors who collaborate with the undergraduate on a semester-long research project. The research is conducted by the undergraduate, but the graduate student provides guidance and instruction where needed. The pair collaborates through regular meetings, eventually developing a final model, paper, or prototype that is presented at the end-of-semester PURE research symposium. According to Xu, undergraduates typically commit between four and six hours a week to their projects, and those students enrolled in ECE 297 who complete their projects receive one credit hour for their research.
Xu and others began developing the program in October of 2007, and the first research projects got under way in March of 2008. In its first semester, PURE had 23 undergraduates and 10 graduate mentors. This year, 56 undergraduates applied and 28 were selected to conduct research.
"I was thinking about whether or not I should do it, but after I went through it, I understood that the experience counts for a lot," said Harjot Badwal, a senior in computer science. "You should definitely do research and experiment with different fields and PURE is a very good program to get started with your research." Badwal spent the semester researching and developing a computer model of the spread of cell phone viruses, which he presented at the end of semester PURE symposium.
"I had never given a proper presentation before, so it was a good experience for me. And it was good to hear other people's ideas and how they approached their projects," said Badwal.
"Last semester was just fantastic. The momentum was huge and the word just kept spreading," said Xu. Word has spread so fast, that PURE is finding itself with more qualified applicants than graduate mentors to advise them.
"There is definitely a shortage of grad students, and we are definitely looking for people who are interested in the program," said Xu.
Elizabeth Van Ruitenbeek, a PhD candidate in ECE, served as Badwal's mentor in the spring semester.
"I really enjoyed it because it's a great opportunity to work with undergraduates who have never done research before and show them what research is," said Van Ruitenbeek, who participated in a similar program as an undergraduate at the University of Texas. She plans to continue mentoring and hopes other graduate students will join PURE to make more room for the growing number of applicants. And if Xu's vision for PURE becomes a reality, there will be many more applicants to other undergraduate research programs in the future.
"We are trying to have this idea diffuse into different departments. Hopefully, PURE will be implanted into other [engineering] departments, and then we can bridge and share research," said Xu.
The Fall 2008 PURE Undergraduate Research Symposium will be held December 2 and 3, 2008, from 6:00 to 7:00 each evening in 165 Everitt Lab. Participants in the Fall 2008 program will present their research projects and findings.
To learn more about PURE, to apply, or to get involved as a mentor, visit their Web site at http://hkn.ec.illinois.edu/pure.