Oelze sets sights on improving cancer treatments
ECE News
Charlie Johnson, ECE Illinois
2/2/2009
Story Highlights
Prof. Michael Oelze received a five-year, $1.9 million grant from NIH to develop ultrasonic imaging to be used in cancer detection.
The imaging technique could be used in conjunction with high intensity focused ultrasound to reduce the invasive nature of cancer treatments.
The new imaging system would also, hopefully, increase the affordability of cancer treatments.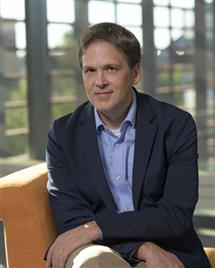 Imagine walking into a hospital to have surgery to remove a cancerous tumor.
Now imagine walking out that same day. That is ECE Illinois Assistant Professor Michael L Oelze's vision for the future of cancer treatment.
"If you cut into people, there's going to be a lot of recovery time. And there is the possibility of other complications, like introducing infection," said Oelze. "It's been a dream of many people to be able to do these procedures noninvasively, and that's what high-intensity focused ultrasound offers."
Oelze has been given a five-year, $1.9 million grant by the National Institutes of Health to develop an ultrasonic imaging system to stage, monitor, and assess the effectiveness of high-intensity focused ultrasound (HIFU) cancer treatments. HIFU treatment focuses the energy of an ultrasound beam to a point as small as a few millimeters, which can heat human tissue in a controlled volume until it dies. This method can be used to treat cancer by focusing the ultrasound beam on or around the edges of a cancerous tumor in order to kill the cancerous cells and prevent their spread, much like a surgeon would but without any scalpel. HIFU could allow doctors to treat cancer, without patients having to undergo dangerous and potentially life-threatening surgical procedures.
Scientists have been studying the use of ultrasound to treat diseased tissue for decades. Some of the earliest work on ultrasonic applications for thermal therapy was done at Illinois by brothers Frank and Bill Fry, but the ability to safely stage, monitor, and assess the effectiveness of the treatment is still lacking, which is what Oelze hopes to correct with his research.
"Even though this technology has been around for a long while, there are problems that need to be addressed to make it a truly noninvasive procedure, and that's where our imaging technique comes in," said Oelze. Oelze's proposed system will make it easier to diagnose, treat, and assess the aftereffects of HIFU treatments.
In order to use the HIFU to treat a tumor, a detailed map needs to be created of exactly where the cancer is located in a patient's body. By studying how ultrasonic waves travel through various tissues such as liver, skin, muscle, fat, and tumor, scientists can create an ultrasonic map of part of a patient's body and detect ultrasonic signatures from the human tissues that correspond to cancer.
Another aspect of Oelze's research is being able to monitor both where the HIFU beam is being focused and the temperature to which the tissue is being heated. An ultrasonic monitoring system for the HIFU treatment would ensure that the treatment is safe and would minimize damage to any healthy tissue surrounding a tumor.
"You want to make sure that you are heating up the diseased tissue, and not killing surrounding healthy tissues," said Oelze. The imaging system, if successful, would also allow the treatment to be performed without the use of invasive probes. While magnetic resonance imaging (MRI) has been used in the past to monitor the temperature of tissue being treated in HIFU therapy, such a system is very expensive and the specialized ultrasound equipment required to work with an MRI machine is not readily available to most patients. Oelze's imaging system would allow HIFU treatments to be far more affordable as well as effective.
Once the procedure is performed, an imaging system is also needed to monitor the effectiveness of the treatment. For example, an imaging technique would need to be able to detect the onset of coagulative necrosis of the cancerous tissue and assess any damage that may have occurred to surrounding healthy tissue. Current cancer treatments require alternate imaging procedures with X-ray, MRI, positronic emission tomography (PET), X-ray computed tomography (CT), or blood tests to evaluate treatment efficacy. These assessments of treatment take time and delay follow-up for additional treatment. If successful, the ultrasonic imaging technique could assess HIFU treatment in near real-time, enabling a physician to rapidly re-treat areas with HIFU that may have been inadequately exposed after the initial treatment.
A treatment method using HIFU and MRI known as magnetic resonance guided ultrasound is currently being used in the United States, as well as Canada, Europe, Israel, and Asia, to treat uterine fibroids (benign tumors that can appear on the uterus). HIFU has also been used successfully to treat prostate cancer in Europe and Canada, and is being evaluated by the FDA for approval in the UnitedStates. But, even with this potential advance in HIFU technology, Oelze does not see HIFU completely replacing all forms of cancer treatment such as chemo or radiation therapy.
"What you want with cancer is a whole arsenal of different techniques to fight cancer because not everything is going to work all the time. However in some cases, maybe this technique could eliminate the necessity of chemo therapy or radiation therapy," said Oelze. "In the future, more cancer surgeries could be outpatient procedures."