Graduate student wins prestigious Microsoft Research Fellowship
ECE News
Lauren Eichmann, ECE Illinois
2/27/2008
Story Highlights
Grad student John Wright received the prestigious Microsoft Research Fellowship.
The fellowship is designed to "represent the best and brightest from North America," according to the Microsoft Research Redmond lab.
Wright will receive two years of funding at $20,000 annually, financial support for travel, and a free computer along with a 12-week Microsoft Internship.
In early February, ECE graduate student John Wright was notified that he was a recipient of the prestigious Microsoft Research Fellowship, the goal of which is to "represent the best and brightest from North America," according to the Microsoft Research Redmond lab.
As part of the fellowship provisions, Wright will receive two years worth of funding at $20,000 annually, financial support for conference travel, and a free computer. Fellowship recipients are also offered a 12-week Microsoft internship in Redmond, Wash., which Wright said he will accept.
"I was surprised when I found out," said Wright. "I was very happy. It definitely settles the funding situation for the next few years." ECE Associate Professor Yi Ma, Wright?s advisor, said he was proud of his student. "I think he very much deserves it. He is certainly the best student that any faculty member could hope for," he said.
Of the 16 students named awardees in North America, Wright was one of four 2008 Fellows to have sponsorship by Microsoft Live Labs. Live Labs encourages individuals "to think about and build a better online world." Wright is in fact not a novice at working on such problems, as he had a previous internship with Microsoft when he worked in Beijing, China, for a few months a couple of years ago.
Ma said Wright impressed a lot of people in Beijing. "It is sort of unusual for an ECE student to win a very prestigious award typically for (computer science) students nationwide," said Ma of the fellowship. "They only usually take 10 to 15 top CS students each year. John actually works on computer vision, normally a traditional computer science area, but he?s very much able to study the mathematical principles behind it. So that actually is very much unique compared to the typical CS students."
Wright said he studies computer vision and building computer systems that can understand images, videos, and other problems in machine learning like data segmentation and data classification.
It was data segmentation and its theoretical applications that he concentrated on while in China, however. "Abstractly, you just have a bunch of points in some high dimensional space and they have some lower dimensional structure," said Wright. "Together they?re very complicated, but each group has a very simple structure, and you want to sift out what that structure is in each group. So the reason we might care about this, is that images sort of exhibit this behavior. Overall, they?re complicated, but maybe they contain a few simple structures. This is a technique for taking this data - when the computer sees the data they?re unlabeled, it doesn?t know what belongs to each group - and breaking them up into groups. [The computer] does that by trying to minimize the total number of bits needed to represent the data."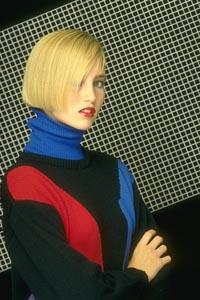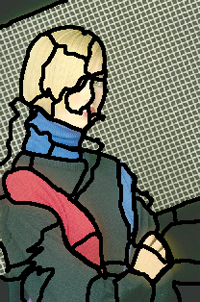 Wright?s fellowship research will focus primarily on work involving face recognition. He will be researching how to make "computer face-recognition robust to variations due to occlusion - so if you have another object in front of the face," he said. "For example, the computer may see a human face occluded by sunglasses and still, out of this lineup of subjects, be able to pick out the person and figure out the change due to the sunglasses. I think the big problem that everyone is interested in these days is image and video search, so Microsoft wants to identify ways to compete with Google," said Wright, who acknowledged that Google currently dominates the field for text-based searches.
Wright hopes to find ways to improve the Microsoft image and video search, which includes searching based on the content of the image and videos rather than just text data around them. "So if you?re looking for an image of a dog, it actually looks at the image and sees whether it?s a dog rather than just searching for images with the label ?dog? next to them," Wright explained.
Wright said he has been researching this particular topic for about a year, but has gone on to other things as well, such as working on building a system that works in real time to lock or unlock a door to a lab depending on who approaches.
Wright said his long-term goal is to ultimately become a professor. In terms of former fellowship recipients, careers have varied greatly. "This kind of award does get people?s attention," said Ma. "If you look in the past for those who have won this award, they now have a very successful career in academia or the high tech industry." However, the last time an Illinois student won the Microsoft Research Fellowship was back in 1999.
The next call for nominations for the Microsoft Research Fellowship will be in fall 2008. The necessary information for submissions can be found from the Microsoft Research Fellowship Web site.
Wright will receive a plaque to commemorate his selection as a fellow during an award ceremony on March 3 in Redmond, Wash. For more information about Wright?s work, visit http://perception.csl.illinois.edu/coding/home.htm and http://perception.csl.illinois.edu/recognition/Home.html.