Goddard receives Presidential Early Career Award
ECE News
Susan Kantor, ECE ILLINOIS
7/13/2009
Story Highlights
Goddard is one of 100 beginning researchers who received the highest honor given to young researchers by the U.S. government.
Goddard will continue to research trace gas detection.
He will attend a White House awards ceremony.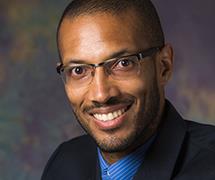 ECE Assistant Professor
Lynford L Goddard
was working at his computer on a typical Tuesday afternoon when an unexpected e-mail popped up in his inbox. That e-mail notified him that he was a recipient of the Presidential Early Career Award for Scientists and Engineers (PECASE).
"It's one of those awards that really changes your career," Goddard said. "It's a very prestigious award and I was just bouncing off the wall. It was just amazing excitement."
Goddard is one of 100 beginning researchers who received the award, the highest honor given to young researchers by the U.S. government.
"These extraordinarily gifted young scientists and engineers represent the best in our country," President Obama said in a White House press release. "With their talent, creativity, and dedication, I am confident that they will lead their fields in new breakthroughs and discoveries and help us use science and technology to lift up our nation and our world."
Nine Federal departments and agencies nominate their most promising scientists annually for the award. Goddard was nominated by the Department of Energy for the postdoctoral work he did at Lawrence Livermore National Laboratory from 2005 to 2007 and for work on some new collaborative projects since joining Illinois.
While at Lawrence Livermore, Goddard first worked on a project on photonic integrated circuits. For his final year of postdoctoral research, he researched trace gas detection. He developed a new sensor architecture to detect very low levels of hydrogen. This can be applied to the storage of hydrogen for energy. The release of hydrogen from storage, as well as hydrogen production, transport, and usage can be monitored for public safety.
"The sensors we're developing will play a role in the future hydrogen economy," Goddard said.
Goddard continues to research this area at Illinois, and the award will allow him to expand his collaboration with Lawrence Livermore.

"The award is in recognition for outstanding potential not only in innovative research, but also in education, community service, and potential for leadership," Goddard said. "I see the award as giving me extra motivation and extra encouragement to excel in my work."
Another benefit of winning the award is meeting and collaborating with other young researchers—something Goddard is looking forward to at the White House awards ceremony this fall. And for Goddard, the presidential ceremony will be one of the most exciting parts about receiving the award.
"It's truly an honor to meet President Obama and receive an award from him," Goddard said. "That's one of those once in a lifetime opportunities. I hope it's not the only time I'm invited to Washington, but its one of those things that I'll have stories to tell my kids and my students. It'll be amazing."