ITRI representatives visit Illinois
ECE News
Lauren Eichmann, ECE Illinois
5/19/2008
Story Highlights
Three representatives from the Industrial Technology Research Institute (ITRI) of Taiwan recently made a trip to Illinois for an ITRI Delegation Workshop.
ECE faculty and the visitors discussed a variety of topics including nanoelectronics, multi-core architecture, optoelectronics, and flexible substrates.
ITRI, a not-for-profit multidisciplinary research and development center founded in 1973, specializes in applied research and industrial services.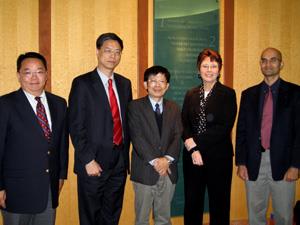 Three representatives from the Industrial Technology Research Institute (ITRI) of Taiwan recently made a trip to Illinois for an ITRI Delegation Workshop. Sin-Yuan (Stephen) Cho, researcher with the International Business Center (IBC); An-Yu (Andy) Wu, deputy general director of the SoC Technology Center (STC); and Sheng-Fu Horng, deputy general director of Electronics and Optoelectronics Research Labs (EOL), participated in research presentations by several ECE faculty members as part of their collaboration with Illinois.
ECE faculty presenters included Jean-Pierre Leburton and Joseph W Lyding who discussed nanoelectronics, and Sanjay J. Patel and Rakesh Kumar, who focused on multi-core architectures. Other topics included a portfolio review from the Office of Technology Management (OTM), optoelectronics and flexible substrates, and SOC for wireless. Cho, Wu, and Horng were also given a student-led tour of the Micro and Nanotechnology Lab, and a walk-through of the Reliability Testing Lab.
"The thing about ITRI is that it's a very large operation in Taiwan," said ECE Professor Naresh R Shanbhag. "They act as a buffer between academic research and industry and products. They're very much involved in industry as well as academia." He said ITRI has traditionally had a strong relationship with U.S. universities, but is looking to expand that collaboration.
Horng said ITRI, which primarily concentrates on the processing or technology side of research, hopes to apply more emphasis from the product angle. "We've identified four areas (for research)," he said. "They are health care, security, entertainment, and energy. We think that the university people — as they do much research and are at the frontier of their fields — can help us find commercial applications. This is the reason we want to have an international collaboration between very distinguished institutions in the United States and our country. [Illinois] is one of them." ITRI will also be working with the University of California at Berkeley, Carnegie Mellon University, and MIT.
Wu said they learned a lot from the ECE professors about their current research. "It's quite helpful for us because it's usually not easy to get all this kind of information within a short time," he said. ECE faculty members Wen-Mei W Hwu, Yun Chiu, Milton Feng, and Naresh R Shanbhag — who was on sabbatical at National Taiwan University last semester — have already formed a partnership with those from ITRI. "We are quite aware of the progress of Taiwan in the high-tech area these past two years," said Shanbhag. "There are a lot of smart people there, and we want to work with them."
The ECE Department started visiting Taiwan more than two years ago, traveling to various universities and research institutions, but it was ECE Department Head Richard Blahut and Director of External Relations Beth Katsinas whose visit to ITRI last October positioned Illinois as a top collaborative institution for ITRI. "At that time we asked them if there was any chance we could visit [Illinois] to learn more about their research activities," said Wu. "ITRI is a special organization in Taiwan — we have about 50,000 people in the research institute — that are doing more industrial-technology development. The universities in Taiwan are more focused on academics, not research. ITRI is that [connection] between university and industry."
To further facilitate such international collaboration, ITRI is enthusiastic about encouraging U.S. students to apply for internships in Taiwan, said Cho. He said such an international partnership is important to ITRI because of the advanced research that happens at many of this country's top academic institutions. He explained how wireless, biotechnology, and nanotechnology are significant fields of focus for Taiwan's industry in years to come. "I foresee or predict that in the very near future [Illinois] and ITRI can develop a really good relationship," he said.
Horng agreed. "ITRI is specifically interested in good ideas to market," he added. "We have a whole spectrum of technology applicable for commercialization. If you have some great idea, some great model or product, (we'd love for you to visit Taiwan)." ITRI typically averages 25-30 internship positions for the summer program, which offers a generous stipend. Students can visit the ITRI Web site for more information about applying.
Illinois also has various exchange programs with Taiwan, including one with National Chiao Tung University. Cho and Horng likewise serve as faculty members at National Taiwan University and Tsinghua University, respectively. "We're hoping that through the exchange program we'll get students who come to [Illinois] as graduate students, undergraduate students, to work with us. And that stream has already started," said Shanbhag, who is currently working with a student from Wu's group. An engineer from the ITRI SoC Technology Center has also already come to Illinois for a month to work with Assistant Professor Chiu.
According to Wu, Taiwan has a very strong infrastructure for microelectronics and consumer electronics and offers good opportunities for students interested in such fields. "Other than microprocessors, if you talk about any other chips in your cell phones, PDAs, digital cameras, and consumer product chips, then I would say that more than 70 percent are manufactured in Taiwan," added Shanbhag. "So most of us have a Taiwanese chip sitting in our pockets."
ITRI, a not-for-profit multidisciplinary research and development (R&D) center founded in 1973, specializes in applied research and industrial services. ITRI's advanced technology R&D operation includes six co-labs, or "research arms," and five focus centers including information and communications; material, chemical and nanotechnologies; biomedical technologies; advanced manufacturing and systems; and energy and environment. Two leading foundry businesses in Taiwan were incubated in ITRI: United Microelectronices Corp. (UMC) and the Taiwan Semiconductor Manufacturing Company (TSMC), the largest semiconductor fab in the world.