Research and basketball games are raising awareness on epilepsy
ECE News
Illinois Athletics
11/27/2018 11:53:17 AM
Story Highlights
On the eve of his sixth birthday, Braylon Walker was as popular as ever. The son of Illini basketball assistant coach Jamall Walker, Braylon posed for photos for the Illini media crew and high-fived cheerleaders and basketball players as he headed toward his seat in the State Farm Center with his grandfather Ralph Evans and his mother Rebekah Walker before the Illini's game against Georgetown on November 13th. By all accounts the energetic, curly-haired five year old is like any other kid except for one thing. Braylon suffers from Nocturnal Frontal Lobe Epilepsy. Epilepsy is a neurological disorder is which brain activity becomes abnormal causing seizures or periods of unusual behavior according to the Mayo Clinic. This issue was difficult on Braylon and quickly became an everyday focus for him and his family.
"It was tough," said Rebekah about learning her son's illness, "Because epilepsy is every single day, medication every single day. Take the medication at the same time every day, twice a day, sometimes people have to take their medication three or four times a day so adjusting to a new reality was tough."
After suffering his first seizure, Braylon was facing an uphill battle with his diagnosis. Although Braylon had a seizure, epilepsy by its definition requires multiple episodes and so the doctors could not properly diagnose him with the disorder until he suffered another one two weeks later.
"When he had his first seizure, they told us the statistics one in ten people have a seizure in their life and he might not have another one so we aren't saying epilepsy yet," said Rebekah.
At the time, Champaign did not have a pediatric neurologist full-time and so the family took Braylon to a locum doctor who recommended that the family keep a relationship in town but also see a medical professional with a focus on epilepsy. It was a time that was difficult for the family, but was the hardest on Braylon.
"Whatever Jamall and I were going through was not compared to what Braylon was going through," said Rebekah, "A lot of times people will say to you 'it's harder on you than it is on them', but no it is definitely harder on Braylon."
One of the greatest things that the University of Illinois can provide is the ability to connect to amazing resources around the country. One of these resources is a joint study by the University and the Mayo Clinic known as the Illinois-Mayo Alliance that has helped to develop a method with the potential to improve treatments for epileptic patients. ECE ILLINOIS PhD student, Yogatheesan Varatharajah, teamed up with Mayo Clinic Neurologist Dr. Greg Worrell to develop a model to identify seizure generating brain regions using non-seizure data.
Varatharajah and Worrell were able to create their model by using electroencephalography (EEG) data from brain sensors implanted in patients brains and analyzed non-seizure activity from 80 patients with epilepsy. The model is projected to help improve epilepsy surgery which is used for patients that do not respond to drug treatments and traditionally required multiple surgeries and the patient having a seizure before the affected part of the brain can be removed. It is a significant model as it can help to decrease the length of stay and surgeries for epileptic patients and reduce the cost without having to wait for the patient to suffer the trauma of having a seizure to obtain data.
"We have been able to achieve is being able to localize the exact same region causing seizures without looking at any seizure related activity," said Varatharajah, "So with this you don't have to wait for a week in the ICU, you can just monitor for two hours and then do the surgery and this eliminates the need for having two back to back surgeries and a lengthy ICU stay."
Before the Georgetown game, Varatharajah was able to meet Braylon and Rebekah to discuss his research with a family that may be helped by his model in the future. For Varatharajah, it was an important moment to help connect the relationship between those who suffer from epilepsy and those who treat them.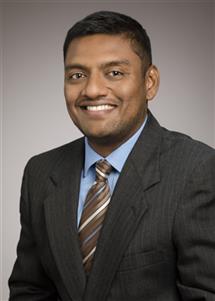 "It is very important for me with respect to the fact that I can be the bridge between someone who's having the disease and someone who can provide the treatment," said Varatharajah, "So I am happy to help them with any of the information that they may need and I am happy to connect them with my collaborators at the Mayo Clinic and being a part of this procedure itself is very rewarding to me."
The two discussed Varatharajah's research and model as well as how it may affect clinics in the future. They exchanged email addresses so that Rebekah could get in touch with Varatharajah's collaborators in the future and Braylon was also able to talk with Varatharajah about his own education and his favorite subject, reading. For Rebekah, it was a one of a kind experience to meet someone who is attempting to help people like her son.
"What Yoga's doing is also why it is important for us to raise awareness," said Rebekah, "It is amazing to meet somebody right here that is working on that."
The Fighting Illini men's basketball team will host their Epilepsy Awareness game on Sunday. The game will help bring awareness to an illness that does not receive a lot of funding and does not have as much awareness as other neurological illnesses.
Varatharajah thinks that more awareness of the disease will help improve the lives of patients who are suffering from the illness.
"I think it is very important. Epilepsy is a very devastating disease, it basically debilitates a person's usual life, I think it is important for people to realize that" said Varatharajah, "It is like any other disease and we have to treat these patients with care and the required medical treatment and with that treatment it is possible to control seizures and even achieve seizure freedoms at times and they can also have regular, healthy lives and I think it is important to spread that awareness."
With increased awareness of the difficulties of epilepsy through events like the Epilepsy Awareness game and the help from researchers like Varatharajah made possible by the University of Illinois, people suffering from the disease may be able to achieve some normalcy in their lives. No matter the game Braylon Walker is going to be popular, but during the Epilepsy Awareness game, he will definitely have more fans. For more information about epilepsy, visit epilepsy.com
Read the original article on the Illinois Athletics website.