ITI internship allows undergraduates to work on 'real-world' research problems
ECE News
Bridget Maiellaro, ECE Illinois
7/21/2008
Story Highlights
The Information Trust Institute's summer research program provides 19 undergraduates opportunities to work with ITI faculty.
Several ECE and College of Engineering professors are included in the program's faculty.
The program is open to students around the world, including some who are collaborating with Illinois faculty from India.
The Information Trust Institute at the University of Illinois 2008 summer research internship program is in full swing, with 19 undergraduate students from across the world participating. The internship, which is in its second year, enables participants to work on real-world research problems with ITI faculty members, interacting with them on an informal, individual basis.
Of the 19 participants, a total of eight undergraduates from India, Singapore, and the University of Illinois will be working with ECE professors. Other Illinois faculty members participating in the program are from the National Center for Supercomputing Applications and the departments of Computer Science, Aerospace Engineering, Mechanical Science and Engineering, and Civil and Environmental Engineering.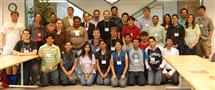 Mavis Rodrigues, an ECE Illinois senior, is currently researching probability and various coding theories in the realm of communications. Rodrigues first learned about the ITI internship from ECE Assistant Professor Todd Prentice Coleman, who taught Probability with Engineering Applications (ECE 313) during the spring 2008 semester. After assisting Arshdeep Singh of the Indian Institute of Technology in the internship program last year, Coleman sought to find someone else who could benefit from his research projects and came across Rodrigues.
"Mavis was basically the only student who consistently showed up to office hours, and she was already doing very well in the class, so I could tell she had a general interest in the area," Coleman said. "So given that she was a good student who asked conceptual questions while already doing well in the class, I would be an idiot not to try and get her involved."
Rodrigues said she became interested in the internship primarily because it would give her the opportunity to learn more about graduate research methods and allow her to learn more about the communications aspect of engineering.
After being accepted into the program, Rodrigues and Coleman were officially paired together. The two then met to discuss the various research topics Coleman had been working on. Since Rodrigues would be conducting the research, she chose to optimize various coding theories because she thought that would help her the most in the long run.
"I'm using this research opportunity to figure out what I want to do later on in life," she said. "I picked the topic that would give me the most amount of experience and allow me to learn different things."
For the first few weeks, Rodrigues, who began her internship May 26, focused on reading a variety of papers written by current researchers in the field, including Coleman. In doing so, she has learned about Information Theory; a variety of algorithms, such as the Sum-Product Algorithm; theories on coding for timing channels; and practical simulation techniques pertaining to C++, Matlab, and Mex Files. Now she is optimizing existing algorithms and extending the approaches to new scenarios.
"She has been diligent and hardworking, and she asks for things to read in her spare time. Mavis is wonderful to work with," Coleman said.
Rodrigues said the most interesting and most useful application she has learned so far is the Sum-Product Algorithm, which is used to solve the marginal probabilities by representing them on a graph.
"The best thing about the internship is that it's hands-on experience," Rodrigues said. "It's unlike sitting and learning from a book, memorizing the information. Here you're actually applying it. Mostly, it's a lot easier to memorize that way. Also, you can see how it is being applied." Coleman said that the internship program is also beneficial for the participating professors.
"It's a great opportunity if you get a solid student who is passionate about what they're doing, it's great for a number of reasons," he said. "One, you get to mentor them, and they get to learn about how to conduct good research. Two, it's good for professors because you will get something out of it too, in terms of pushing your research forward."
Following her internship, Rodrigues and Coleman hope to keep in touch and continue to research new applications.
Varsha Chittawar, fifth year senior at the Indian Institute of Technology, Kharagpur, is one of three interns working with ECE Professor Ravishankar K Iyer and Zbigniew Kalbarczyk, research professor in the Coordinated Science Laboratory, this summer. Chittawar, who is pursuing a master's of science in math and computing, focuses on extending NFTAPE framework to support high-level fault injections in C++ applications. The challenge is to build injectors that account for the intricacies of the object oriented nature of C++.
"I am particularly interested in cryptography as it combines fundamentals from mathematics and computer science," she said. "While applying for the internship, I was interested in projects related to security as I had developed an interest for the field during my studies at IIT, Kharagpur, and a previous internship."
Chittawar, who began her internship May 14, works about 40 hours a week. She said on a typical day, she either implements the required method or is searching for possible solutions to the problem by reading. Through the internship, Chittawar has joined Iyer's DEPEND group, consisting of graduate students whose research focus on the design and validation of dependable and secure systems.
"We do work which relates to developing hardware and software techniques to support reliability and security services in computing systems," Kalbarczyk said. "By introducing well-defined short-term projects, we have been able to instruct the students of what we want them to do, provide continuous supervision, and get the results we expect."
As a member of DEPEND, Chittawar interacts with Iyer and Kalbarczyk's graduate students on a daily basis. In addition, she meets with the entire group, including Iyer and Kalbarczyk, once a week. Chittawar said some of the most important concepts she has learned from the internship are due to those weekly meetings, in which she and the other two ITI interns individually present their weekly progress and concerns.
"When we put forward our problems and doubts, we get input from the professors and the students for possible solutions and what we can further do in the project," she said. "This has helped me broaden my thinking to come up with more creative ideas for future work in the project. It has also given me a direction to think for finding solutions in a more efficient manner."
Thus far, Chittawar has been introduced to various methods used for fault injection and has learned about the fundamentals and implementation of those methods. Through the internship, she has worked to develop methods for determining the addresses of the local variables in a program and injecting faults. Currently, she focuses on demonstrating the implemented injectors by conducting fault injection experiments on real applications.
"Every week I have a goal set, and every day I work towards the target," Chittawar said. "In the process, all the members of the group are very supportive in providing suggestions and clear doubts."
Chittawar's internship will end July 16; she will leave for India July 17. Overall, she believes the internship is beneficial because of the challenging projects and ability to work with well-known professors and students from a variety of cultures. After she returns home, Chittawar plans to stay in touch with Iyer.
"It will be great for me if I could keep working on the project after returning back to IIT, Kharagpur," she said. "I will also seek (Iyer's) advice when applying for graduate studies."
The Information Trust Institute (ITI), a multidisciplinary, cross-campus research unit in the College of Engineering at Illinois, held its inaugural internship program last summer, selecting 18 undergraduates from the United States, Serbia, India, and other locations. While 2007 had 40 applicants, this year's participants were selected from 94. Applications were due Feb. 29, and participants were notified of their acceptance by mid-March.
"The applicant pool was particularly strong. There were a number of very qualified students, ones that were very solid," Coleman said. "It's a great way for students to get involved with some unique research opportunities and endeavors, so why not try to become a part of it?"
Internships will last eight to ten weeks, with all participants earning a weekly stipend and some obtaining allowance for travel and housing expenses. The awards are supported by state and federal funds. In addition to their research projects, interns attend weekly events where professors speak on a variety of related topics, including research ethics and other ongoing research projects at Illinois. The internship will conclude after interns present their research results to the entire group of researchers at their final weekly meeting.