ECE researchers improve fiber optic data transmission
ECE News
Bridget Maiellaro, ECE Illinois
2/12/2008
Story Highlights
Professor Shanbhag and Professor Singer received a best paper award about the creation of a new clock and data recovery circuit.
Their research began at Intersymbol Communications, Inc., a Champaign-based company that Shanbhag and Singer created in 2000.
They designed the SmartCDR, an integrated circuit that uses signal-processing enhanced mixed signal design techniques to recover data from an optical fiber that is of poor quality.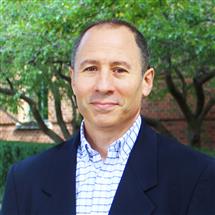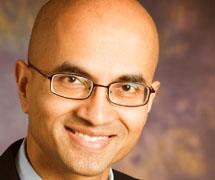 ECE Professor Naresh R Shanbhag and Associate Professor Andrew Singer, as well as Illinois graduates and others, were recognized for the creation of a new clock and data recovery circuit at the IEEE International Solid-State Circuits Conference (ISSCC), on February 4 in San Francisco, where they received the IEEE Journal of Solid-State Circuits Best Paper Award.
The paper, entitled "An MLSE (Maximum-likelihood sequence estimating) Receiver for Electronic Dispersion Compensation of OC-192 Fiber Links," appeared in the IEEE Journal of Solid State Circuits in November 2006. However, the group's research and development was first presented in the form of a conference paper at ISSCC, a forum for presenting advances in solid-state circuits and systems-on-a-chip, in February 2006. Shanbhag and Singer, ECE alumni Hyeon-Min Bae (PhD '04) and Jonathan B. Ashbrook (MSEE '00), and Jinki Park and Sanjiv Chopra, both of whom worked at Intersymbol, co-authored the award-winning paper, which stemmed from the conference article.
"We were ecstatic and very surprised because we had no idea that our paper was being considered for this award," Shanbhag said. "All the co-authors were very, very happy, and it was kind of an endorsement of our work that we had done over the last six years."
Shanbhag said the research began development at Intersymbol Communications, Inc., a Champaign-based company that he and Singer created in 2000, which was acquired by Finisar Corporation, Inc. (NASDAQ:FNSR), a leading manufacturer of fiber optic subsystems, in March 2007.
"In early 2000, researchers found that there were a lot of problems with optical fibers," he said. "The fibers were not as ideal as people thought they were. People thought they could go to very high data rates without any problems. That was not the case. These fibers exhibited dispersion, a phenomenon by which the transmitted data gets garbled at the destination."
Shanbhag and Singer came up with the idea to use signal processing techniques, along with mixed-signal integrated circuit implementations of those techniques, to recover data transmitted at high rates over such fibers. The research at Intersymbol eventually led to the design of what they refer to as the SmartCDR, an integrated circuit, or chip, that uses signal-processing enhanced mixed signal design techniques to recover data from an optical fiber that is of poor quality, or that has been used beyond the data rates at which they had been previously designed.
"We knew the right answer was to leave the fiber alone, and, instead, use the power of digital signal processing and exploit Moore's law, which states that clock rates of chips roughly double every 18 months," Singer said. "This is a new direction for both the optical industry as well as the semiconductor industry."
Singer said that the paper has led to substantial interest in both the circuit design community and the signal processing community. In fact, at the 2007 ISSCC, Shanbhag gave a tutorial on electronic dispersion compensation (EDC), the technology where signal processing-enhanced mixed-signal ICs are employed for optical fiber links.
During a session at this year's ISSCC, Bae discussed the enhanced features of the SmartCDR in an article entitled, "A 10 Gb/s MLSE-based EDC IC with Fast Power Transient Management for WDM Add/Drop Networks." Bae, Ashbrook, Shanbhag and Singer co-authored the article, which was based on technologies incorporated into the same devices discussed in the 2006 paper.
At the same conference, Singer participated in a special session, "Trends and Challenges in Optical Communications," where he presented a talk titled, "Signal Processing Challenges towards 100G Optical Links."
In addition, Singer and Shanbhag will present a tutorial entitled, "Algorithms and Architectures for Next-generation Optical Fiber Communications: A New Frontier for Signal Processing," at the IEEE International Conference on Acoustics, Speech and Signal Processing (ICASSP) in Las Vegas this spring
Finisar Corporation is currently working to put the SmartCDR chip into production and to design transponders (optical modems) using it for long-haul and metro optical links. In fact, product samples are being demonstrated with select customers across the globe.
In the meantime, Shanbhag said that the Champaign branch of the company is developing a next generation version of the product, which will be more powerful and can handle longer fiber lengths. While the branch has hired two engineers over six months, Shanbhag said the company is looking to recruit more employees.
"We have always had a good experience with ECE Illinois graduates," he said. "They have played a strong role in the development of advanced technology and products in our company."
In addition to Bae and Ashbrook, Intersymbol Communications, Inc., benefited from the contributions of alumni Rajmohan Hedge (PhD '01) and Jake Janovetz (BSEE '96, MSEE '99).
"We would like Finisar's Champaign facility to grow in size and continue to focus on very advanced, cutting-edge technology and products in the optical and related area," Shanbhag said. "In time, we want Finisar to collaborate with Illinois' ECE Department. We want to bring these two institutions together by working jointly on advanced research projects."
Steps in enhancing this collaboration have already been taken. In 2007, Bae was appointed a visiting assistant professor in CSL, where he is currently working with a design team composed of ECE professors Elyse Rosenbaum's and Shanbhag's graduate students.
In addition, Bae and Shanbhag are also co-instructing a new graduate level course, entitled "High-Speed Clock-Data Recovery Systems" (ECE 598SB) this semester. This course leverages the learning and experience gained over the past seven years by its instructors in designing a cutting-edge technology product. Shanbhag and Ashbrook are also developing a new senior level course for Fall 2008, where seniors and graduate students will get an opportunity to use an industrial strength IC design flow to design complex tape-out ready ICs.
Even with these developments, Shanbhag and Singer said that they are still exploring other opportunities for research collaborations between Finisar and Illinois.