Six alumni honored at 2018 Alumni Awards Banquet
ECE News
Joseph Park, ECE ILLINOIS
10/17/2018 3:38:50 PM
Story Highlights
On October 12, 2018, the ECE ILLINOIS Alumni Board Association honored six alumni for their leadership, impact, and technical achievements.
Young Alumni Achievement Award
The Young Alumni Achievement Award recognizes young alumni (younger than 40 years old) who have made outstanding professional contributions to their fields since graduating from ECE ILLINOIS.
Ashley J Llorens (BSCompE '01, MSEE '03) leads research and development activities at the Intelligent Systems Center in machine learning, robotic and autonomous systems, and applied neuroscience towards addressing the nation's most critical challenges from defense to health. During his 15 years at the Johns Hopkins University Applied Physics Laboratory (JHU/APL), he has led technical teams in applying machine learning to advance autonomous sensing capabilities for the U.S. Armed Services and served as an advisor to Defense Science Board on studies relating to autonomy and counter-autonomy. He has been awarded letters of commendation by the U.S. Navy for technology contributions, a Government Purpose Innovation Award by JHU/APL, and a Modern-Day Technology Leader award at the Black Engineer of the Year Awards.

Llorens has long been a champion for diversity and inclusion, and he was appointed to serve as the chair of the JHU Diversity Leadership Council in 2014. Under his leadership, the DLC Diversity Innovation Grant program was founded and has awarded over $100,000 for projects ranging from the sponsorship of new inductees to the Indispensable Role of Blacks at Johns Hopkins exhibit to a conference on gay rights in U.S. foreign policy.

Llorens is a voting member of the Grammys and has managed a career as a hip hop artist alongside his career at Johns Hopkins, with a body of work that includes five studio albums and tours in the U.S., Japan, and Europe. His music has appeared in film and TV including "The Blind Side" starring Sandra Bullock and NCIS LA.

Distinguished Alumni Award
The Distinguished Alumni Award honors ECE ILLINOIS alumni who have made professional and technical contributions that bring distinction to themselves, the department, and the university.
For sustained leadership and technical contributions to research and development for foundry advanced CMOS logic transistor technology
Carlos H. Diaz (PhD '93) has spent the last 20 years working for the Taiwan Semiconductor Manufacturing Company. He began his career with TSMC leading transistor technology development. His technical success, collaborative spirit, and leadership helped him advance in the company, becoming the Director of Advanced Transistor Technology Division, the Director of Logic Advanced Development Division, and now the Senior Director of Corporate Research. He continues to be at the heart of a wide range of products, notably developing seven generations of foundry technologies, including nodes that enabled many other companies to realize innovations in cellular, smartphone, and graphics applications.

Prior to TSMC, he was a member of the technical staff at Hewlett-Packard Co where he designed and built a transmission line pulse (TLP) tester that was among the best in use at that time. He earned his bachelor's degree in electrical engineering and physics and master's degree in electrical engineering from Universidad de Los Andes, Bogota-Colombia, coming to ECE ILLINOIS for his PhD.

Diaz has published over 100 journal and conference papers, holds over 100 U.S. patents, and published one book. He served in the IEEE IEDM Technical and Executive Committees and the technical program committees for the IEEE VLSI, SSDM, SISPAD, IRPS, and EOS/ESD international conferences and symposiums. He also served at the International Roadmap for Semiconductors executive committee. Dr. Diaz was elected an IEEE Fellow in 2008 for his contributions to deep-submicron foundry technology.

In 2011, he was co-recipient of Annual Innovation Breakthrough Award, Ministry of Economic Affairs, Taiwan R.O.C., conferred to TSMC's 28nm logic technology. He was the recipient of the 2016 IEEE Andrew Grove Award for sustained contributions to and leadership in foundry advanced CMOS logic transistor technology.

For challenging the status quo through innovation
Jeff Huber (BSCompE '89) is the Founding CEO and Vice Chairman of GRAIL (2016-present). GRAIL's mission is to detect cancer early, when it can be cured.

Prior to GRAIL, Jeff worked at Google[x] at the intersection of life science and computer science (2013-16) and was a co-founder of Verily. Previously at Google, Jeff was senior vice president and led development for Google Ads (2003-11), Google Apps (2005-10), and Google Maps (2011-13).

Earlier, Jeff was vice president of architecture and systems development at eBay and senior vice president of engineering at Excite@Home, where he led consumer product and infrastructure development.

Jeff holds a bachelor's degree in computer engineering from the University of Illinois and a master's degree from Harvard University. He is a board member of Electronic Arts (EA), Openwater, and The Exploratorium, and former board member of Illumina (ILMN; 2014-16).

For pioneering contributions to spectral and multi-scale methods in multi-physics electromagnetics and subsurface sensing and imaging of complex media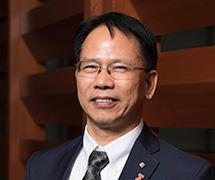 Qing Huo (PhD '89) focuses his research on computational electromagnetics and acoustics, inverse problems, and their application in nanophotonics, geophysics, biomedical imaging, and high speed electronic systems. He has published over 450 papers in refereed journals in these areas.

Now a professor at Duke University, he began his career as a postdoctoral research associate with the Electromagnetics Laboratory at the University of Illinois at Urbana-Champaign. He then spent six years in the oil exploration industry as a research scientist and program leader with Schlumberger-Doll Research. He moved to academia in 1996 as an associate professor with New Mexico State University, before moving to Duke in 1999.

Liu is a Fellow of the IEEE, the Acoustical Society of America, the Electromagnetics Academy, and the Optical Society of America. Currently he serves as the founding editor-in-chief of the new IEEE Journal on Multiscale and Multiphysics Computational Techniques. He received the 1996 Presidential Early Career Award for Scientists and Engineers (PECASE) from the White House, the 1996 Early Career Research Award from the Environmental Protection Agency, and the 1997 NSF CAREER Award. He has served as an IEEE Antennas and Propagation Society Distinguished Lecturer. He received the 2017 Technical Achievement Award and the 2018 Computational Electromagnetics Award from the Applied Computational Electromagnetics Society, and the 2018 Harrington-Mittra Award in Computational Electromagnetics from IEEE Antennas and Propagation Society.

For fundamental contributions to wireless communication systems and their innovation application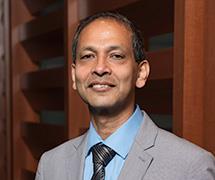 Upamanyu Madhow (MSEE '87, PhD '90) is Distinguished Professor of Electrical and Computer Engineering at the University of California, Santa Barbara. His current research interests focus on next generation communication, sensing and inference infrastructures centered around millimeter wave systems and on robust machine learning.

Madhow has been closely involved in technology transfer of his research through several start-up companies. He was co-founder and Chief Architect (Transport) of Bytemobile (acquired by Citrix in 2012), which developed technology deployed by mobile operators worldwide for improved wireless network utilization. He was co-founder and Chief Scientist of Wirama (acquired by Checkpoint Systems in 2009), which developed technology for RFID localization. Most recently, he was co-founder and CEO of ShadowMaps (acquired by Uber in 2016), which developed technology for improving GPS location accuracy in urban settings, using sophisticated probabilistic inference based on satellite signal strengths and 3D maps. ShadowMaps software-only approach, which applies to any Android device, has been integrated into Uber's infrastructure. It is now deployed for Uber riders in major metropolitan markets worldwide, and is currently being rolled out for Uber drivers.

Madhow is a recipient of the 1996 NSF CAREER award, Fellow of the IEEE, and co-recipient of the 2012 IEEE Marconi prize paper award in wireless communications. He is the author of two textbooks published by Cambridge University Press, Fundamentals of Digital Communication (2008) and Introduction to Communication Systems (2014), and is co-inventor on 17 U.S. patents.

For leadership, corporate development, and significant contributions in the field of electromagnetics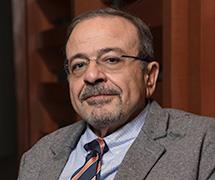 Parviz Parhami (BSEE '74, MSEE '76, PhD '79) is a recognized national expert in the aircraft EMP hardening area and a co-author of the MIL-STD-3023 (Aircraft HEMP Standard). He has led the development of innovative EMP instrumentation systems (CASSPER, MIIS, CWI-Net) and data management tools (IDAWS, DREAM, TODREAM). In 1989, Parhami founded Scientific Applications & Research Associates (SARA), Inc., a multi-disciplinary research and development company, primarily in support of the Department of Defense community. He has served as Chief Executive Officer since the company's inception and, under his leadership, SARA has grown from a staff of two to its current team of more than 140 employees, reflecting a balanced team of exceptionally talented technologists and senior management. Parhami's expertise in electromagnetics has established SARA as a nationally recognized contractor providing full range of High Altitude Nuclear EMP (HEMP) assessment, hardness design, technology development and test services for C4I facilities, ships and aircraft.

Parhami received all of his academic education at the University of Illinois at Urbana-Champaign, culminating in his PhD with a focus on electromagnetics. Upon graduation, he began his career at TRW, joining the Space and Defense system team where he worked on Aircraft HEMP modeling, hardening, assessment, and test technologies. Parhami has presented at several conferences, published several papers, holds two utility patents, is a member of the Dean of Engineering's Advisory Board at California State University Long Beach (CSULB) and, received the Harold Scharper Achievement Award from the College of Applied Health Sciences at the University of Illinois (2013).

A resident of Long Beach, California, he is married to Karen, an attorney, and is the proud father of Sarah, Eva, and Isaac.