Students meets alumnus during C-SPAN bus tour stop
ECE News
Elizabeth Yoon, ECE ILLINOIS
9/26/2018 10:39:37 AM
Story Highlights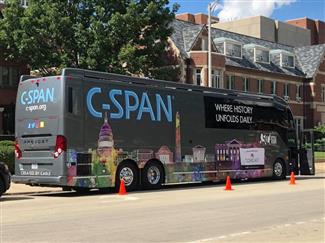 ECE ILLINOIS alumnus
Robert Kennedy
(BSEE '78), C-SPAN President and co-CEO, returned to campus with the
C-SPAN bus
earlier this month. Kennedy received the 2012 ECE Distinguished Alumni Award. Through his leadership and work in the cable television industry, C-SPAN was able to grow into the company that it is today.
As part of their "50 Capitals Tour," C-SPAN's new motor coach bus is visiting all 50 state capitals while celebrating their 25th anniversary of touring the country. On its way to Springfield, the C-SPAN bus stopped at the university to engage with students, teachers, elected officials, etc. with their multi-platform public service resources. Through large-screen tablets, a smart TV, a TV production studio, video station, and selfie station, visitors were able to view C-SPAN's interviews of state eleted officials and record video responses regarding issues specific to the state of Illinois.
Students were able to meet Kennedy as he spoke as a guest speaker in a broadcast journalism class taught by
College of Media Assistant Professor Janice Collins
. Many were able to learn about C-SPAN's development as a company and took advantage of the resources in the C-SPAN bus.
Through the C-SPAN bus and the help of Kennedy, citizens across the United States are able to gather important information through the resources provided.
Read more information about the event on the College of Media website.