Herting named a Rockwell Collins Engineer of the Year
ECE News
Susan Kantor, ECE ILLINOIS
8/7/2009
Story Highlights
Grad student Brian Herting is one of three Corporate Engineers of the Year at Rockwell Collins.
Herting has been at Rockwell Collins for six years.
He was nominated for his research on weather radar antenna.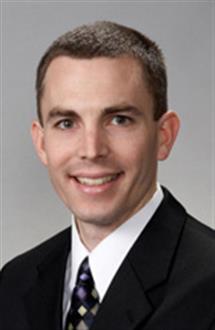 Out of 6,000 engineers working for Rockwell Collins, ECE graduate student Brian Herting (MSEE '03) is one of three to be named Corporate Engineer of the Year.
Each year, employees of Rockwell Collins nominate their peers for the award. Fifty semifinalists are narrowed to 10 finalists, and three are chosen as the Engineer of the Year in their respective fields.
"When I found out I won the award, I was taken aback," Herting said. "Just to be nominated was an honor."
Herting, who won the award in the Engineering and Technology area, had hoped to win the award sometime during his career. Having been with Rockwell Collins for only six years, Herting was surprised to win the award at this stage of his career. But Herting's interest in engineering started long before working for Rockwell Collins.
As an undergraduate at Marquette University, Herting was fascinated with electromagnetics. When he was deciding on what to study for his master's degree, he considered two research areas: computational electromagnetics and antennas. Attracted to its hands-on nature, he chose to focus on antenna research. Herting joined ECE Professor Jennifer Bernhard research group in 2001.
"He's always been very focused and very intelligent. He really has an analytical mind," Bernhard said. "He knows how to break down problems and think about things."
After graduating in 2003 with his master's degree, Herting started with Rockwell Collins in CedarRapids, Iowa. His research at the company is very similar to the antenna research he worked on at Illinois, analyzing and designing antennas.
His research on weather radar antenna technology earned him a nomination for this award. Weather radars are in the nose of almost every aircraft and help alert pilots of weather conditions. The antenna Herting created has additional features that will help improve the use of weather radar systems.
Although Herting works full-time at Rockwell Collins, he remains an ECE grad student as he works toward his PhD. When he was on campus, he took an overload of courses in anticipation of working toward a doctorate. He has completed nearly all required courses and plans to perform his research in the area of antenna arrays. And though he is currently miles away from campus, he still contributes to Bernhard's group.
"Even now, from a distance, if I send out an e-mail to the group when someone is having a problem they can't solve, he'll chime in with a solution or try to offer help in getting different kinds of parts," Bernhard said. "Even though he is remote, he is still actively participating in the group."
Herting plans to complete his research at Rockwell Collins and receive his PhD within the next few years.
"I'm fortunate to work with some great engineers and to work for this company," Herting said.