Rao donates books for new faculty display
ECE News
Julia Sullivan, ECE ILLINOIS
3/13/2018 8:00:06 AM
Story Highlights
Edward C. Jordan Professor Emeritus in Electrical and Computer Engineering N Narayana Rao visited the ECE Building this week. In honor of his recent 86th birthday, he made a short presentation to ECE ILLINOIS faculty and presented Department Head William H Sanders with eleven copies of his books spanning multiple editions. Select volumes will be included in a new book display, developed under the guidance of the ECE ILLINOIS Faculty Advisory Committee. The display will highlight published works of current and emeritus faculty and is slated to be unveiled later this calendar year.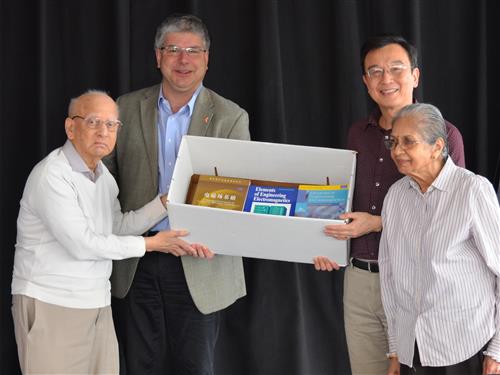 Rao's published undergraduate textbooks include Basic Electromagnetics With Applications (Prentice Hall, 1972), six editions of the widely-used Elements of Engineering Electromagnetics (Prentice Hall, 1977, 1987, 1991, 1994, 2000, and 2004), the Indian edition of Elements of Engineering Electromagnetics, Sixth Edition (Pearson Education, India, 2006), Fundamentals of Electromagnetics For Electrical And Computer Engineering (Pearson Prentice-Hall, 2009), and its Indian edition, Fundamentals of Electromagnetics For Engineering (Pearson Education, India).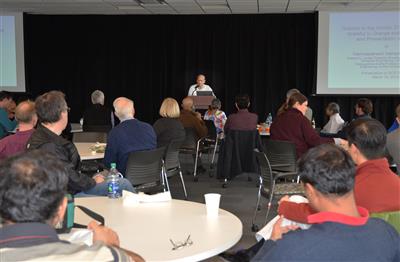 In 1974, Professor Rao introduced a new approach, later termed the "Maxwell's Equuations First (MEF) Approach," for the teaching and learning of Fundamentals of Electromagnetics (FEM). In the 1980s, he pioneered the use of personal computers for teaching electromagnetics and developed interactive software to enhance the learning of basic concepts. He has been influential in changes in the curriculum at the University of Illinois and received numerous
awards and honors
for his teaching and curricular activities.