Young alumnus receives Charles C. Stewart International Humanitarian Award
ECE News
Illinois International News
2/2/2018 1:38:50 PM
Story Highlights
The Charles C. Stewart International Young Humanitarian Award recognizes the accomplishments of an Illinois graduate whose dedicated international service exemplifies the highest ideals of selflessness and dedication to the welfare of communities outside of the United States. This year, the honor goes to recent ECE ILLINOIS alumnus Adam Brakhane (BSCompE '14). Just before his junior year, a new engineering class was introduced: Honduras Water Project. He joined on a whim and was quickly introduced to the idea of holistic engineering design that incorporates the social, cultural and technical implementations of a project.
While visiting Honduras for the class project survey trip, he connected with other long-term volunteers from International Rural Water Association (IRWA) and Agua y Desarrollo Comunitario (ADEC). These relationships would become invaluable over the following years, as he continued to come back to Honduras. With his computer engineering background, he created pressure monitoring devices that could be placed around communities to better monitor and improve water systems. Adam continues to work with these organizations, providing technical assistance and analytics.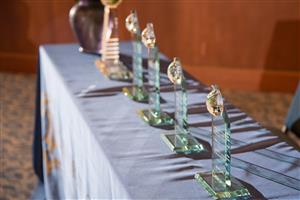 In 2017, Adam and several other past students from the Honduras Water Project class decided to take their passion for holistic design of water projects and create Akelos, a 501(c)3 nonprofit. Akelos partners with nonprofits around the world to provide resources they may be lacking: the ability to work with local NGOs, engineering design, administration, community health, grant experience, and more. Adam currently works at Tovala, a food-tech startup in Chicago, where he serves as Director of Software Engineering.
The award will be presented at the annual International Achievement Awards Banquet on April 4, 2018, at the Alice Campbell Alumni Center. The International Achievement Awards are presented by the University and Illinois International Programs to recognize outstanding alumni, faculty, and students whose exceptional work, service, and/or scholarship has made a significant, global impact. Read about the other winners on the Illinois International site.