Alumnus finds simultaneous successes
ECE News
Daniel Dexter, ECE ILLINOIS
8/17/2017 11:18:51 AM
Story Highlights
Ashley Llorens' two passions came to a culmination in 2003 with a couple of significant achievements: the receipt of his master's in electrical engineering from Illinois and the release of his first hip-hop album.
Since then, Llorens (BSCompE '01, MSEE '03) has found success in both fields. He is currently the Chief of the Intelligent Systems Center at the Johns Hopkins Applied Physics Laboratory (APL). But when he's not in the research lab, Llorens devotes his time to his music career as the recording artist SoulStice, including the release of five studio albums and international tours of the U.S., Europe, and Japan.
Llorens said balancing his two professions has been "an evolution," but that it never felt like a challenge. He was just doing what he enjoyed.
"The decision I made was to not deny any of my curiosities and to accept that I was someone that had this diverse set of interests," Llorens said. "I made the commitment to myself to pursue both of the interests for as long as I could."
As the head of the Intelligent Systems Center at APL, he oversees operations and stewards the research and development efforts to discover solutions to emerging world challenges through the use of robotics and artificial intelligence. The work done at the Center provides advanced capabilities to areas of defense, intelligence, space exploration and health.
Llorens has spent his entire professional career at APL, which began serendipitously during his graduate studies at Illinois. As a master's student, he applied for the GEM Fellowship, which supports summer internship experience with a corporate sponsor to underrepresented minorities in STEM fields. He expected to be working for a well-known corporation, so it came as a shock to learn he was going to be spending his summers at another school.
"When I opened the application I said, 'Great, I got the Fellowship… Oh man, it's another university.' I had to go halfway across the country to do an internship at another university," Llorens said. "I didn't realize that it's a not-for-profit university-affiliated research center. I was supposed to get my PhD, but I really enjoyed the internship, so I got lured away. I really connected with the work there."
What drew him in was the connection between his graduate focus of digital signal processing and the artificial intelligence projects that APL researched. When he started as a Machine Learning and Signal Processing Engineer at APL in 2003, his intention was to work for a few years before he could turn his full attention to his music. However, he came to see the creative aspects of his engineering profession as an indispensable part of his life.
While engineering was his "day job," Llorens still had the flexibility for his music career on nights and weekends. So SoulStice's reputation grew as he continued to release studio albums and perform concerts that were met with critical acclaim.
"I would do an eight hour day at work and come home and get in the studio to do some song-writing or recording," Llorens said. "On some days, I would go to a nightclub or something to do a show. Once I started to gain some attention overseas, I would take four-day weekends and go perform in places like Amsterdam. Then I would come home and go to work on Tuesday. It was a really interesting kind of run."
In 2009, he released his last studio album to date, "Beyond Borders," and his single "That Thang" was included in The Blind Side, the Oscar-Nominated film starring Sandra Bullock. Although family and increased work responsibilities have cut down on his touring, Llorens continues to find time, after putting the kids to bed, to write and record music in his in-home studio.
Llorens attributes his time at Illinois for helping develop both of his pursuits. He came to the University in 1997 with little background on what to expect from the computer engineering program. He just knew he had talents in math and science, and he enjoyed playing with MS-DOS on his home computer.
He still fondly remembers ECE 110, which was taught by now Professor Emeritus [profile:trick] and former ECE chief advisor Marie-Christine Brunet. The class introduced him to ideas of logic and transistors, and the material he learned confirmed his decision to study computer engineering.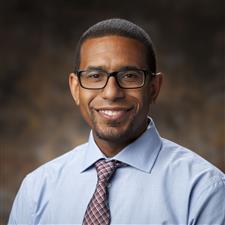 What separated Llorens from most of his engineering peers was his innate interest in the liberal arts. He relished the opportunity for a diverse education by taking his required engineering curriculum along with 400-level philosophy and history classes.
"There was a body of knowledge in all these different areas, and I had the opportunity to sample from all of them," Llorens said. "I was able to come to a place like Grainger or Everitt and talk transistors or logic, and then go a little bit south to talk philosophy and politics. All of that is right up my alley."
He also started to experiment with his hip-hop talents on campus and took part in his first rap battle as a freshman, which he won. He was able to find a community of people where he could hone his freestyling and on-stage abilities that eventually led to the release of his first album, North by Northwest.
His diverse background continues to influence his everyday life in both the studio and the research lab. He intends to help make diversity a bigger part of his peers' lives through his work as the chair of The Johns Hopkins Diversity Leadership Council (DLC). The Council's work helps advance diversity and inclusion at Hopkins through conferences and Diversity Innovation grants, which fund efforts by faculty, students and staff to create a more inclusive environment at Johns Hopkins.
Llorens believes his interests make him a "fish out of water" in any setting but he's proud of that because it allows him to bring a unique perspective wherever he goes.
"In the music space, I'm a nerdy engineer, and in engineering spaces, I'm an artist," Llorens said. "That's just who I am I guess. I really value diversity and having a diverse set of interests. I've come to understand that as a strength. I've had such a diverse set of experience that I can always add something to any conversation. That's something that I value and something that I've gained from all those different experiences."