Research Park based PSYONIC grabs headlines
ECE News
Victoria Halewicz, ECE ILLINOIS
8/7/2017 3:31:57 PM
Story Highlights
ECE ILLINOIS alumnus Aadeel Akhtar (MS 16') is on a mission to bridge the gap between amputees and their need for prosthetics, regardless of their lack of resources. Operating out of Research Park, the startup PSYONIC is developing a more affordable and intelligent bionic hand by employing machine learning.
PSYONIC was launched in 2015, with the goal of reducing the cost of prosthetics that look and move like a real human hand. According to PSYONIC's page on iVenture Accelerator, "There are over 11.4 million people in the world with hand amputations, with more than 80% in developing nations. Of that 80%, less than 3% have access to affordable prosthetic care. State-of-the-art prosthetic limbs that are controlled through muscles on the residual limbs, known as myoelectric prostheses, are priced between $15,000-30,000."
The problem with prosthetics is their costly and inefficient design. When operating a prosthetic, it is difficult to receive sensory feedback about factors such as the amount of pressure applied to a bottle of water in the process of picking it up.
PSYONIC's dedication has made their prosthetic distinct. Their economic design incorporates parts made from lightweight rubber and silicone cast in 3-D-printed molds, making it less bulky than most prosthetics on the market. This allows for a flesh-like feel and flexibility similar to a human hand.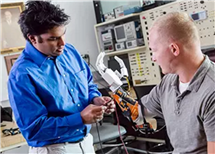 Even more remarkable is the mechanism enabling movement. According to Akhtar, who also received a PhD in neuroscience from Illinois, most amputees still have muscle activity in their forearms. PSYONIC's machine-learning algorithm teaches the bionic hand through the performance of a series of movements.
The team has managed to bring the manufacturing cost down to $600. However, they are in need of more funding before they can proceed. The funding PSYONIC raises will allow for FDA approval and covering the device under health insurance policies. Funds will also be used to build an initial batch of 50 prosthetic hands. Akhtar is forecasting their prosthetic's release as a medical device in 2019.
Read more from the Chicago Tribune.
The PSYONIC team has many ties to ECE ILLINOIS. Jesse Cornman (BSCompE '17) is the senior robotics engineer, and current undergraduate Wenjun (Steven) Sun serves as an electrical engineer.