Undergraduate named Goldwater Scholar
ECE News
Victoria Halewicz, ECE ILLINOIS
7/28/2017 12:12:36 PM
Story Highlights
Dennis Rich has been named a 2017 Goldwater Scholar in honor of his dedication to research. Rich is a junior advised by ECE Professor and MNTL affiliate Can Bayram.
The award was established in 1986 to honor Senator Barry Goldwater, who served for 30 years in the U.S. Senate. Recipients receive stipends toward covering the cost of tuition, fees, books, and room and board. Through this program, outstanding students are encouraged to pursue careers in math, the natural sciences, and engineering. "This recognition is single handedly the top award for any undergrad in the country," said Prof. Bayram.
Rich was motivated to pursue research prior to stepping foot on the Illinois campus. He spent two summers gaining research experience at Northwestern before his freshman year. One of these experiences was a study of particle-level simulation and analysis of the free energy required to dry a surface consisting of nanopores. "That one was quite exciting, because it turned out it required less energy to dry than to wet, i.e. the surface would remain dry even while underwater," said Rich, "It's been eye-opening to be able to research a variety of fields there before settling down to focus in Dr. Bayram's lab."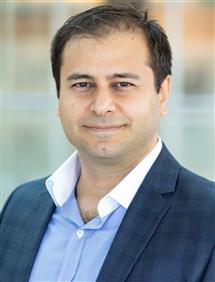 "Dennis has been working with me since his first day as a freshman, and I am very pleased to see him bring this National Recognition to our department. This is largely due to the undergraduate research opportunities created in our department, as well as the rigorous course, education, and outreach opportunities available to our undergrads. I also thank AFOSR YIP [The Air Force Office of Scientific Research Young Investigator Research Program] for partial support of Dennis's work," said Bayram.
Outside the lab, Rich has been involved in Engineers Without Borders at Illinois. He is leading an effort to source water to a community of 372 people in Chichimuch, Guatemala. This involves designing and building pump and piping infrastructure, linking the new water source and the community's existing water tank.
When asked about his current research with Bayram, Rich enthusiastically explained that they are engaging an effort to demonstrate a new method of cheaply producing thin-film semiconductor devices. They believe this paper-thin computer chip will improve performance due to thermal dissipation being better in thinner devices.
"Dr. Bayram has been an ideal mentor. I see every day that he knows what it means to be a researcher. He has advised me extensively on topics from electron-beam evaporation to work-life balance, and I plan to thank him someday by doing the same for a pupil of my own," said Rich.