News-Gazette highlights non-traditional students
ECE News
Victoria Halewicz, ECE ILLINOIS
6/19/2017 2:54:44 PM
Story Highlights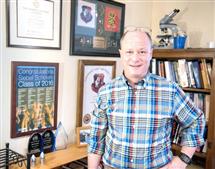 Karl Reinhard (PhD '16) is not what you might call a traditional post-doc student. The 56-year-old retired Army colonel and father was featured in "
Higher on the learning curve
," an article in the News-Gazette focusing on the unique stories of older, non-traditional students.
Reinhard began his doctoral work in 1998. With just two years of graduate school left, he was asked by the US Army to command an ordinance at Fort Lewis. Soon after, 9/11 occurred, and he remained loyal to his service for 28 years.
While at ECE ILLINOIS, he was advised by Peter W Sauer. Reinhard has notably led a nine-student research team on using synchrophasor data to measure the power grid's operating state in near-real time. He was named a 2016 Siebel Scholar, a member of the first class that recognized students in energy science.
Currently, Reinhard is working with an energy start-up in the area. Upon completing his dissertation, he intends to teach Green Electric Energy (ECE 333) and Senior Design (ECE 445).
Read the original article on the News-Gazette site.